The Complete Beginner's Guide to Notion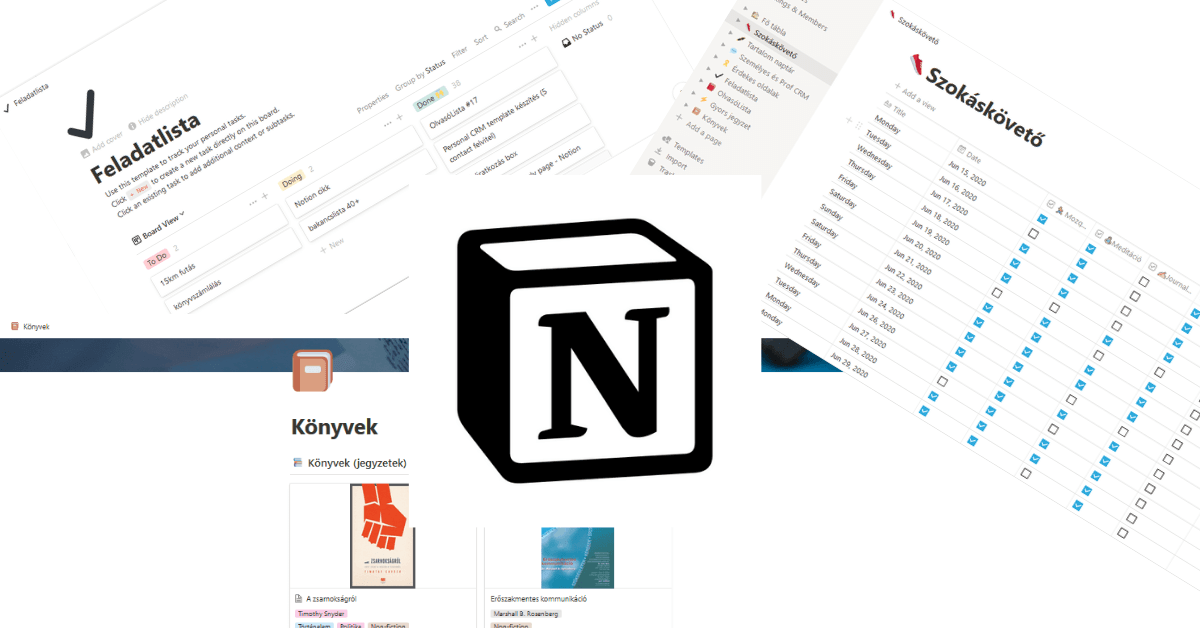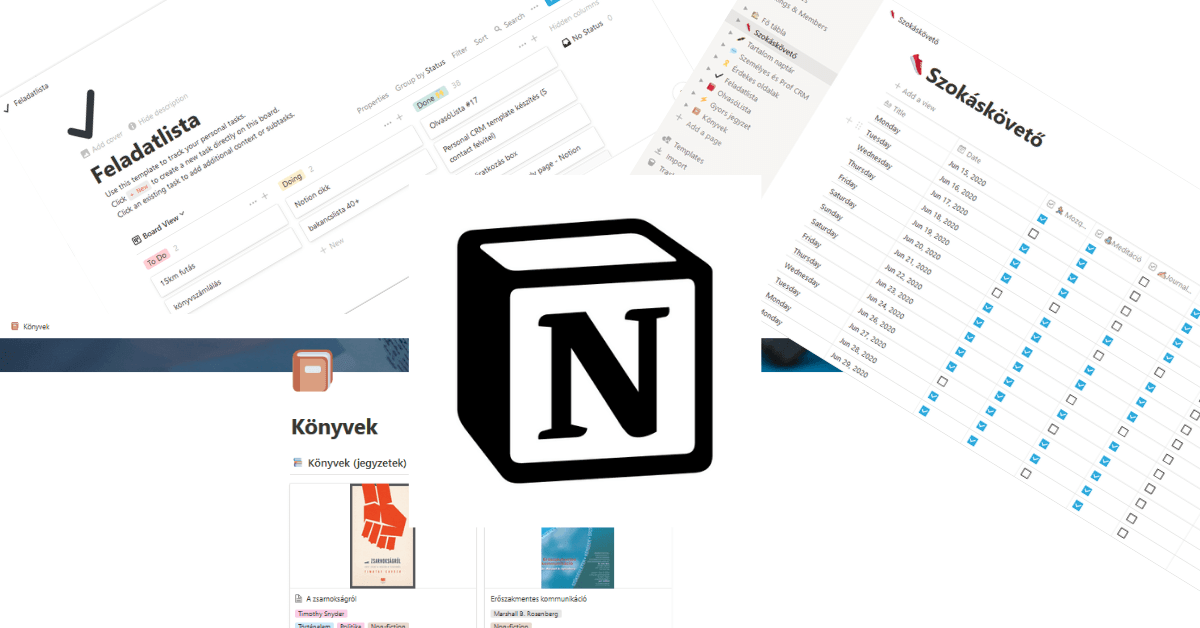 Notion is a hard-to-categorize, all-in-one platform that can be used to create databases, knowledge repositories, to-do lists, productivity systems, and countless other problem-solving interfaces. Notion was a big discovery for me in 2020, it has replaced a lot of the note-taking and project management apps I used to use and has taken my personal knowledge management to a whole new level.
Notion is like a Microsoft Word crossed with Excel, with a touch of Asana added and the whole thing turned into a Trello spreadsheet app at the touch of a button.
Or much more than that.
Notion is a platform you can use to build interfaces to solve your own problems.
In this article, I'll share with you the capabilities and benefits of the platform, and show you how I use Notion for habit tracking, goal setting, journaling, content production, and as a knowledge management system.
The biggest advantage of Notion: databases
With Notion, you can not only create spreadsheets and documents but also link them together to create dynamically changing databases. But what do we mean by a database and why is it more useful to shovel your data into Notion than into a Google Spreadsheet?
By database, in our case, we mean several linked spreadsheets.
Each table has rows and columns that are linked together by a common variable. By linking tables, you avoid having to enter the same information in two different tables.
You can also create linked spreadsheets with other programs, but while the aforementioned Google Spreadsheet requires complicated formulas, scripts that often run to error, and hours of Stack Overflow browsing to do the same, Notion does it all in two clicks.
The big advantage of Notion is that you can create databases without any programming knowledge, which you can use to track your costs, as a productivity app or CRM system, among other things.
Linked Databases
Once you create a table in Notion you can insert it into any other page. You can apply custom filters, set a different view for the new table.
In my opinion, linking databases is one of the most useful features in Notion.
With linked tables you can see the results of different tables in one interface, you can modify them, while the original table changes with the linked database.
Many of my Notion workflows build on linked tables.
I created a Task List table to keep track of my short-term goals and to-dos. It's useful for weekend and end-of-month reviews to keep track of tasks completed, and I also prefer to use the kanban view for longer time horizons. But on a day-to-day basis, I don't like to see the tasks due in two weeks' time, nor do I really care about the tasks that have been completed.
The solution to this problem is Notion's linked database function.
The following is the original Task List table in Kanban view: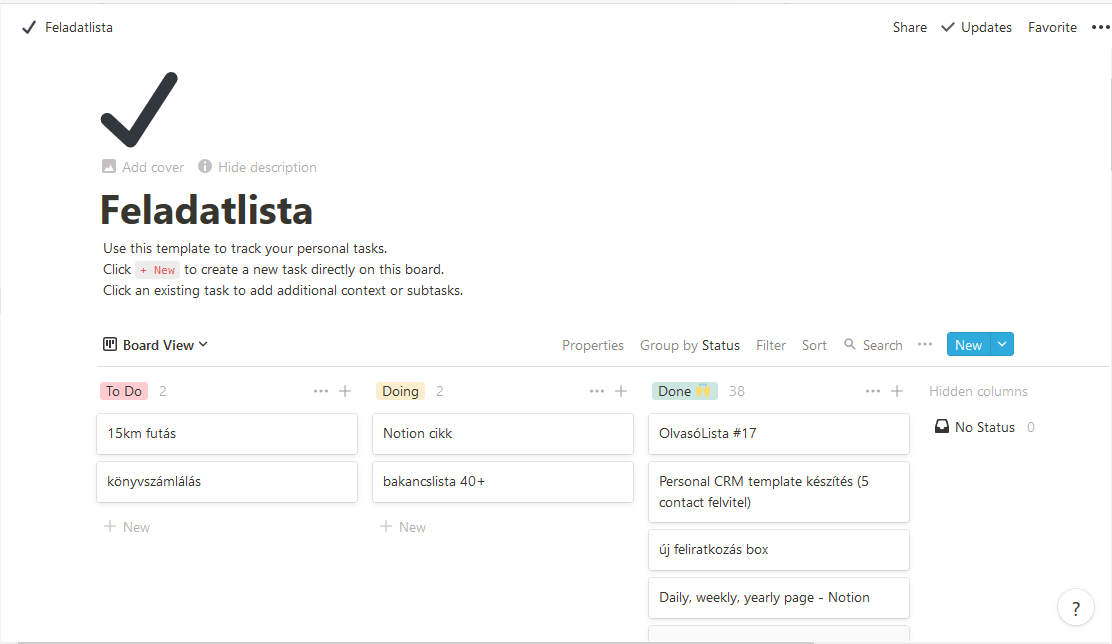 And the following page is a custom page, the home screen of my Notion system. This is where I link to a week in advance (Deadline filter) or to the unfinished tasks (Status filter) from the To-Do List.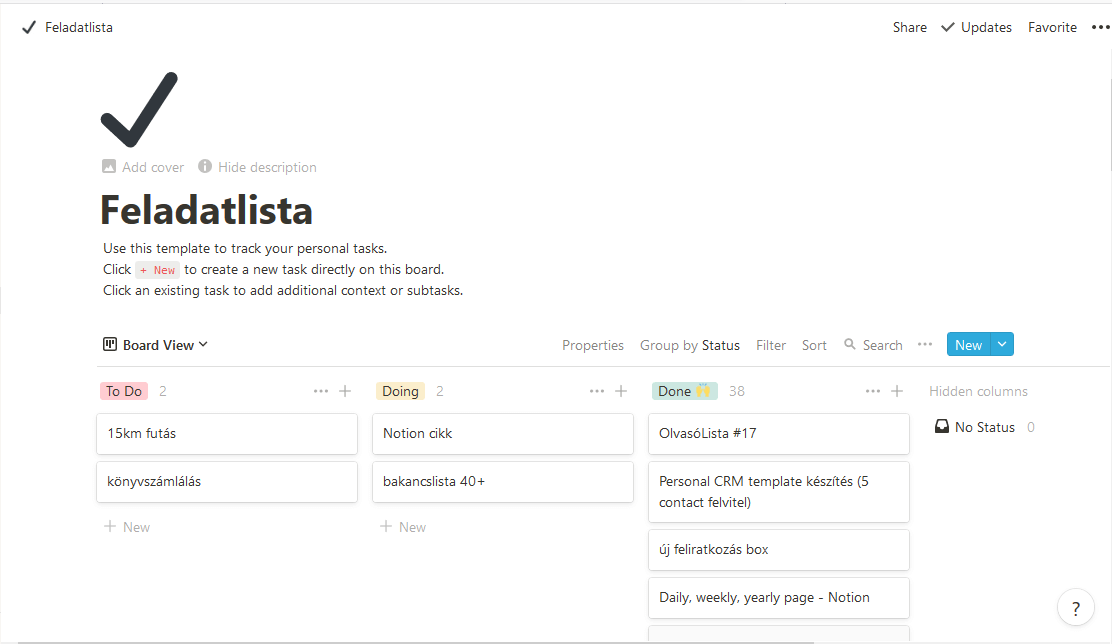 Linked databases are also great because they help me to display filtered versions of several tables on the main page, so I can see both short-term tasks and monthly goals at the same time.
Relations & Rollups
Not only can you filter and reference entire tables in Notion, but you can also call up columns using Relations & Rollups.
Personally, I don't use complex systems that take advantage of these two features, but they can be used to do complex things like adding interdependent tasks to a to-do list, or linking tables of notes and projects.
Using Notion templates
Notion allows you to share the systems you've created with others, so you don't have to build each page from scratch.
You can find templates that can be imported with one click in the Notion Template Gallery, and you can also find custom templates shared in Notion tutorials. Most of the templates I've shown you are based on the basic gallery and other bloggers' templates.
For example, I created my Content Calendar from Thomas Frank's Video Project Tracker.
In addition to incorporating other people's templates, you can also create internal page templates with Notion. Anything that requires repetitive manual work can be saved using templates.
In the Content Calendar, for example, this is the page generated for each project, which includes a pre-publication checklist and useful resources (stock photo library...).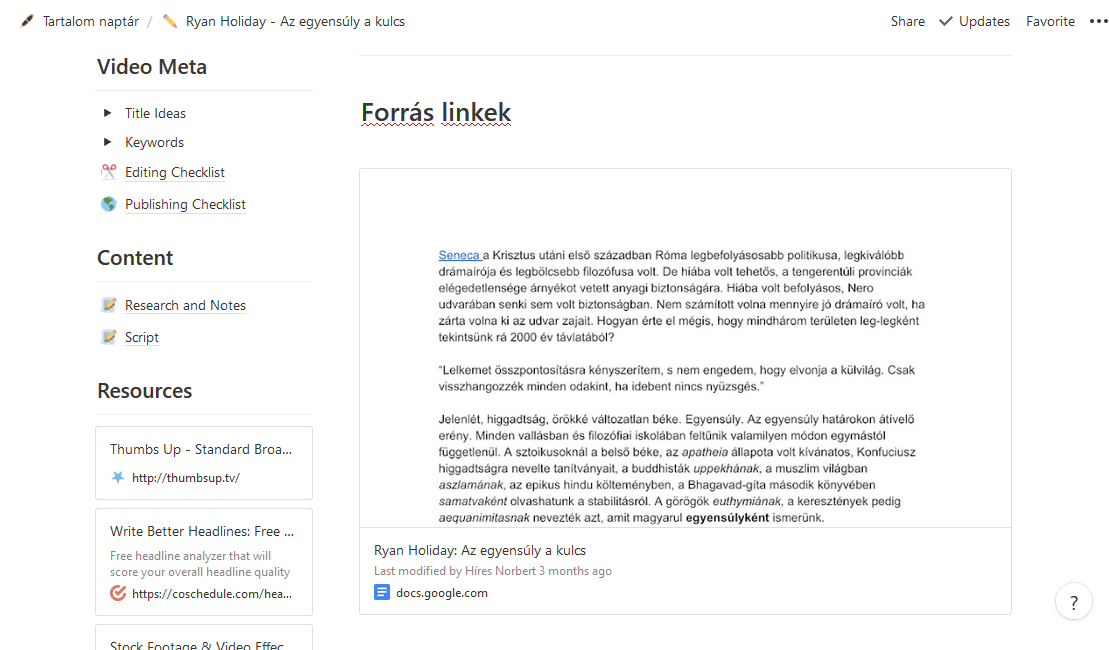 I also used templates to integrate self-improvement exercises into my daily journaling sessions. With one click I can generate templates for the different exercises, so I only have to fill in the blanks.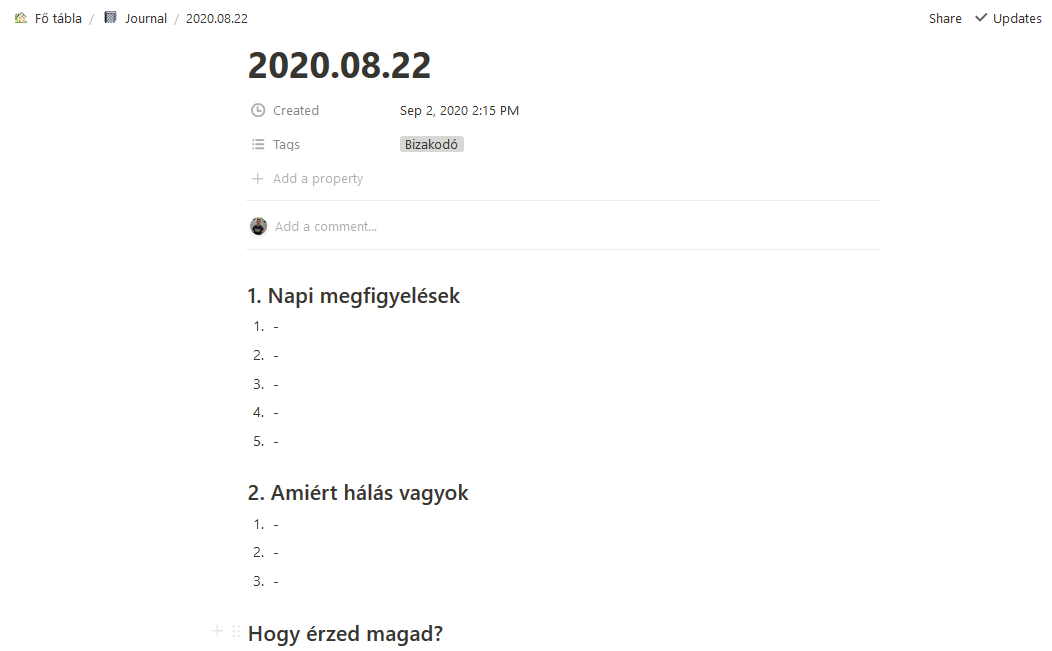 Bookmark 2.0 - Notion Web Clipper
I often find long-form articles that I would like to read, but don't have the time at the moment. I've tried browser bookmarks to solve the issue, I've used Pocket for years, but none of them were perfect.
I often forgot about the bookmarks and did nothing with the articles I saved in Pocket after reading. They had no place, so I forgot about them.
Alongside the articles, I often see pages that are simply interesting.
A cool personal portfolio, an aesthetic headline, a well-written caption, or an app that might come in handy later also had no place in my system.
To overcome these difficulties, I created two different databases to manage the content I came across:
The Reading List: Saving content for later. I can save the URL of great resources this way and with the comment functions, I can highlight important ideas.
Interesting Sites: I put here any content that I have nothing to do with, just like, and might be useful later.
I place the pages, or URLs, in one of the two databases using Notion's browser extension.
The Notion Web Clipper (Firefox/Chrome) adds an extra icon to the browser toolbar, which you can click to select which table the URL you're browsing should be placed in.
For example, this is how I save a long-form article for later: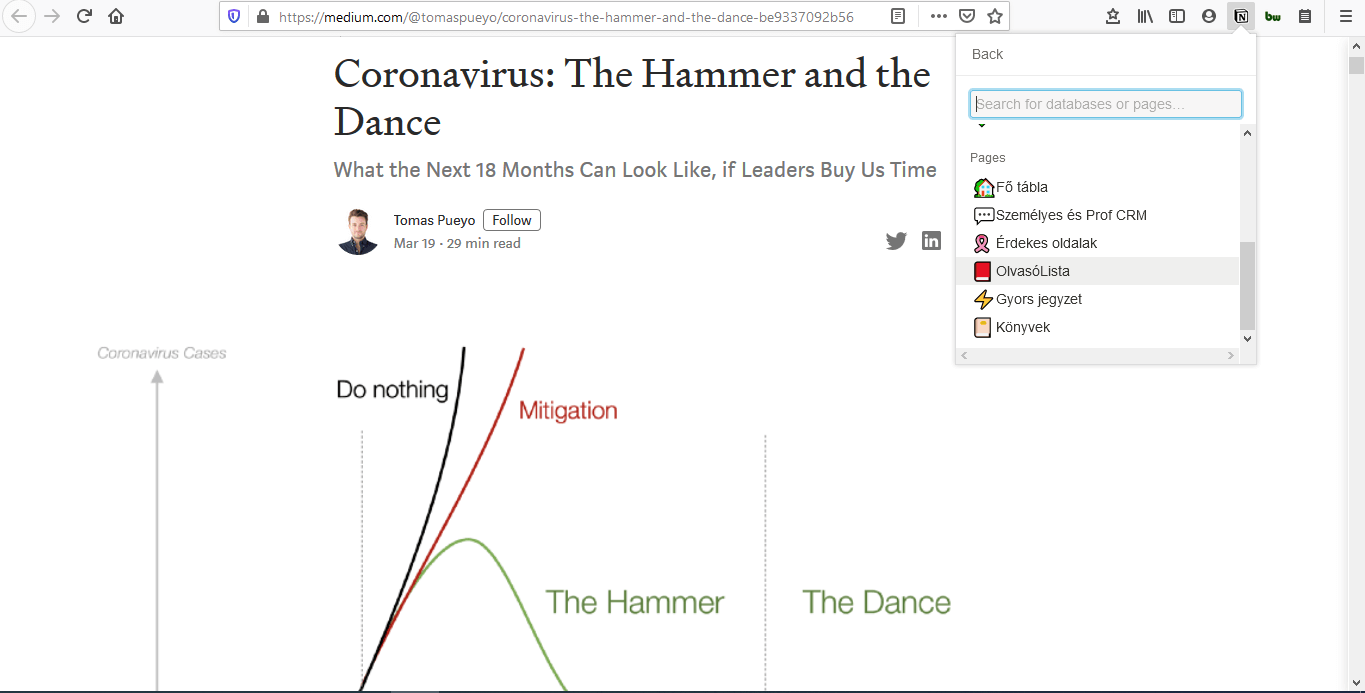 After saving, the URL is put into a table, where I fill in the pre-defined variables for later retrieval.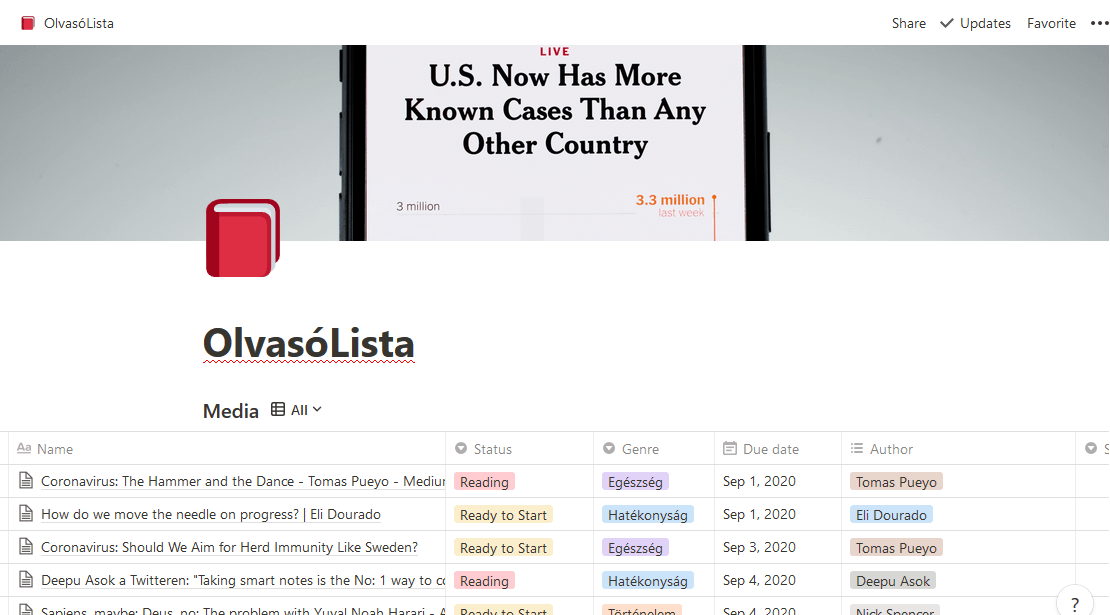 The fields in the Name column are individual pages, which can be clicked on to customize the other fields or to add custom content. These custom pages are where I put my favorite quotes and where I take notes.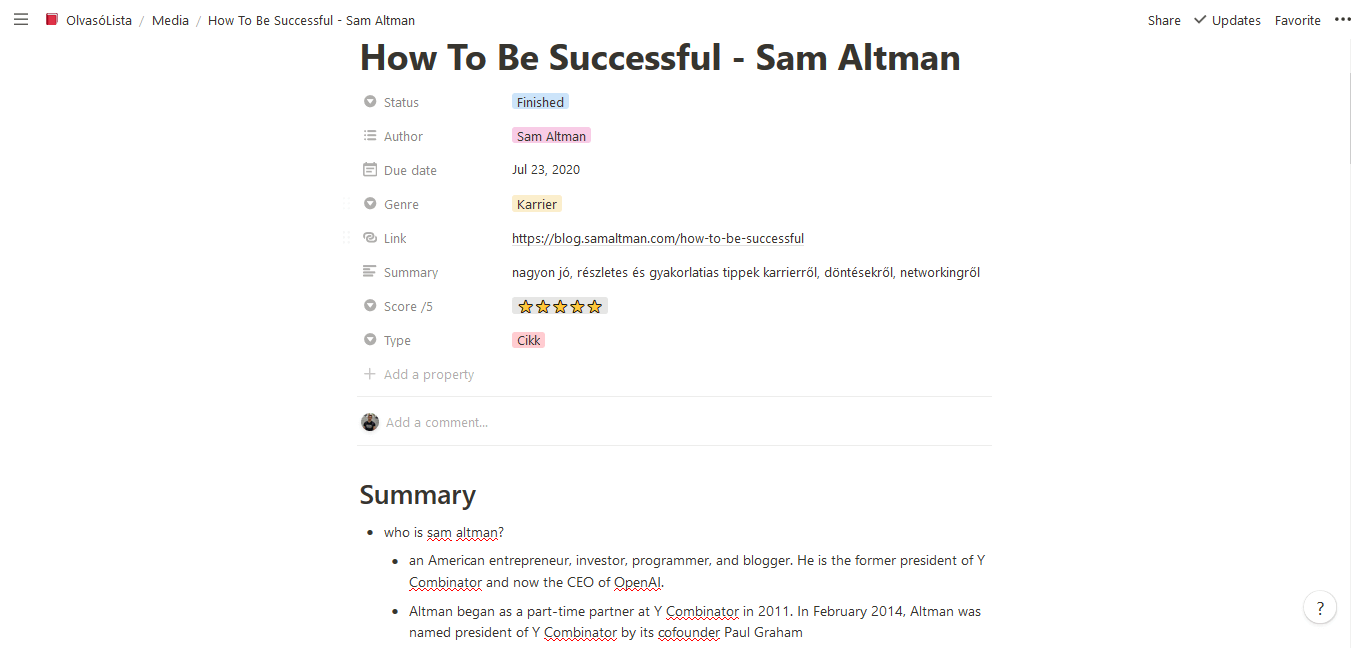 My Interesting Pages table works similarly with a few modifications. I don't make a note of these pages, but rather label them according to why I saved them and what I can use them for later.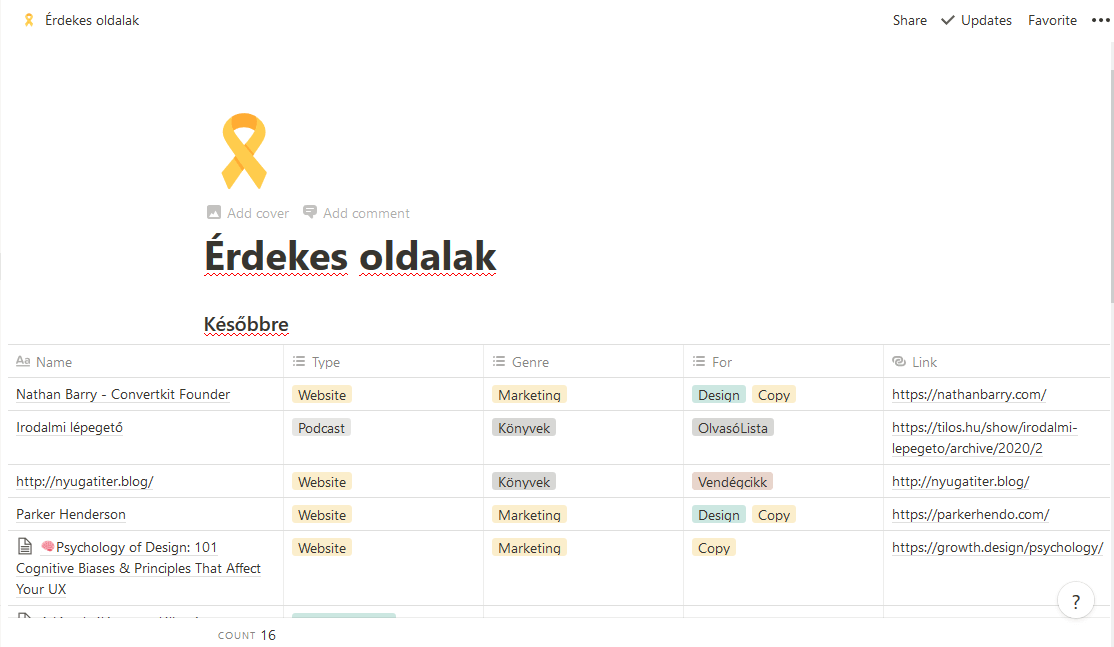 Notion and the Web Clipper have made my screen-based content consumption significantly more efficient. Not only do I save interesting content, but I organize it into a structure I can retrieve later while writing short summaries about it.
Views and unique style
Notion's data can not only be displayed as colorful tables but can also be organized into calendar, kanban, and gallery views. The different views provide functionality beyond the spreadsheets.
I like to manage my Content Production Calendar as a filtered spreadsheet. I work on one or two articles at a time at most, so the next step is usually clear, no need to look through the whole monthly calendar.
Not so with the Task List, where I keep both ongoing and unstarted tasks. This is where the Kanban view (or board view) comes in handy.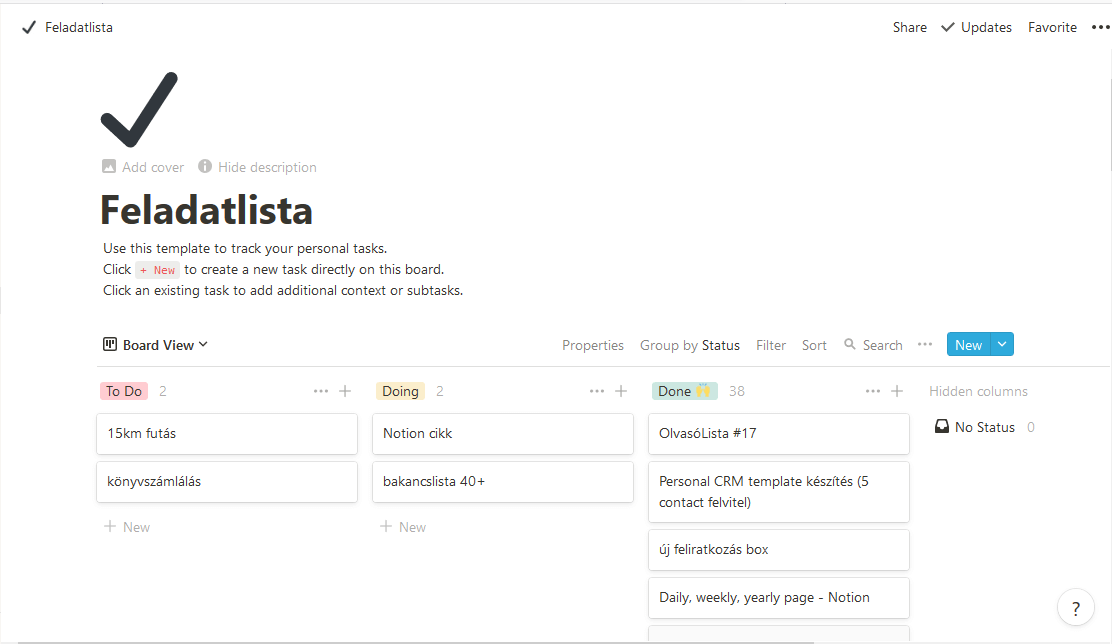 If you are particularly interested in the time/date role in a database, you can also build on Notion's calendar view. When designing articles, I try to schedule at least one piece of content for each week, which is much easier to check in a visually designed interface. Not least, you can then switch back to your favorite view with a click.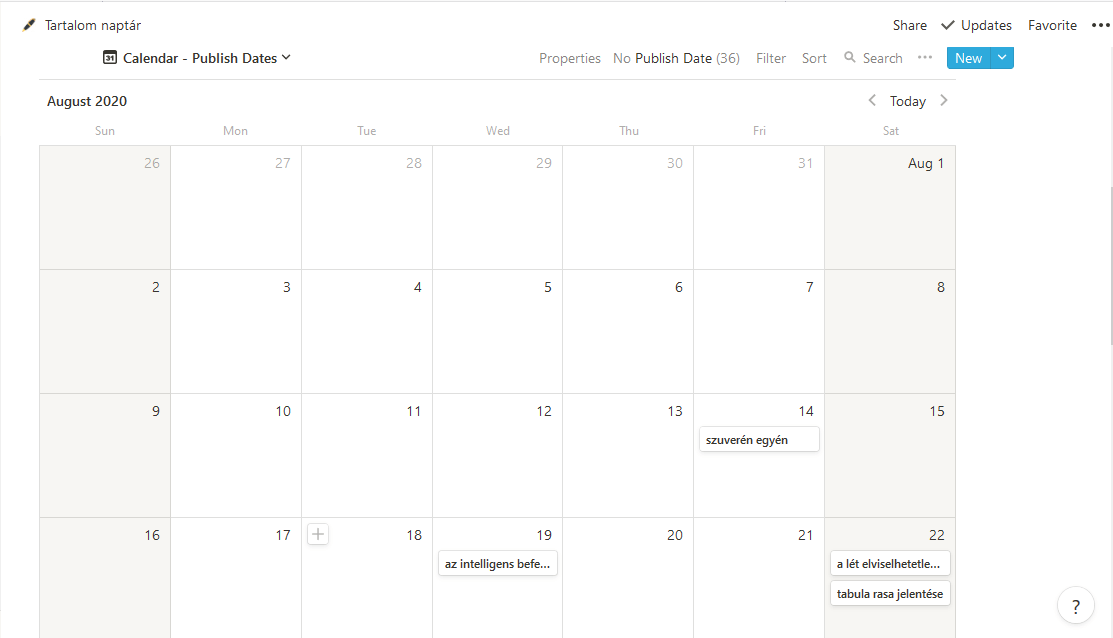 The last view not shown so far is the gallery.
I'm building the books section of my knowledge management system on top of the gallery view. Reading ideas, notes, tags, and categories can all fit in the gallery view, while you can also display book covers. The gallery view can be used to make any database visually appealing, especially if you include images as variables.
Why is gallery view useful?
Because it makes important information transparent and easily accessible. Although I won't go into detail in this guide, you can share your Notion pages with others and create process descriptions, internal company wikis, etc.
In these cases, the gallery view is less intimidating than a hundred-line spreadsheet.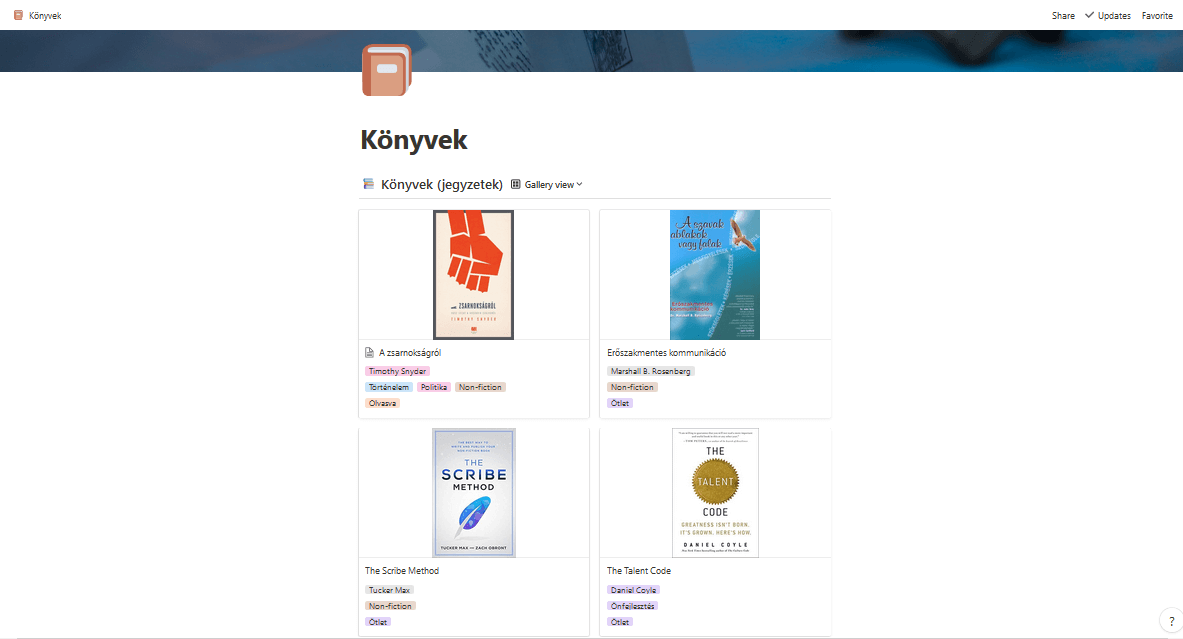 Header and icons
I like to think of Notion as a tool for creating functional and aesthetic solutions to your problems. And building aesthetic solutions are also facilitated by customizable elements.
You can add a unique icon and header to each page and subpage, and format the page content according to markdowns familiar to other apps (semicircles, italics, underlines; headings; bullet points; quotes...).

Notion handles embedded content particularly well.
Google Drive links,
YouTube videos,
Github items,
code snippets,
custom files
All of these items can be aesthetically displayed on our pages.
What else do I like about Notion?
Webapp and Mobile app: you can use Notion on laptop and mobile, sync is fast and the mobile app is usable. Previously I tried using Evernote to take notes on mobile but found the app unusably slow. And in the case of Roam Research, there wasn't even a mobile app for long.
Community: lots of different people use Notion and build incredible systems with it. We can get inspiration from other people's boards, but some creators even share their templates with us, which we can use free of charge.
Simple and easy: After registering, we can easily create pages and spreadsheets. Customization of the pages is also almost self-explanatory, but taking advantage of Notion's real strengths takes time and practice. You can find detailed tutorials on Notion's YouTube channel. I don't use every single feature of Notion, but I always tweak my boards a little as I learn something new.
Universal: I used to manage my tasks in Basecamp, track habits with Habitbull, use Evernote and Roam Research for note-taking, and save articles with Pocket. I am currently replacing all of these apps with Notion. Most of the time I don't need all the features of a specific app, I just want to do a basic activity with them. And Notion can replace that most of the time.
What can you do with Notion?
In the article, I have already shown some examples of what I use Notion for. Now I'll show you some other useful use cases of the app.
Here's what the main Notion menu looks like for me. There are also individual tables under the main tabs. Let's look at a couple of specific examples.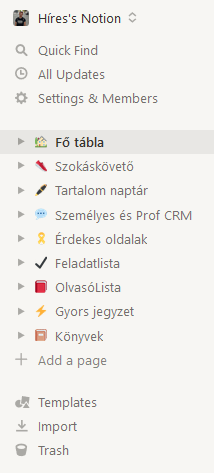 Habit tracker
In his book Atomic Habits, James Clear writes about the benefits of following habits. Xs on the calendar reward good behavior, and consistent progress provides a further motivational boost to practice the habit.
There are several habit-tracking apps available online, but the system James Clear suggests requires just a two-column spreadsheet (or a booklet).
Keep track of the day and the habit you want to get, with a tick box at the intersection of columns and rows. This is available in the Notion templates.
This is how I use it: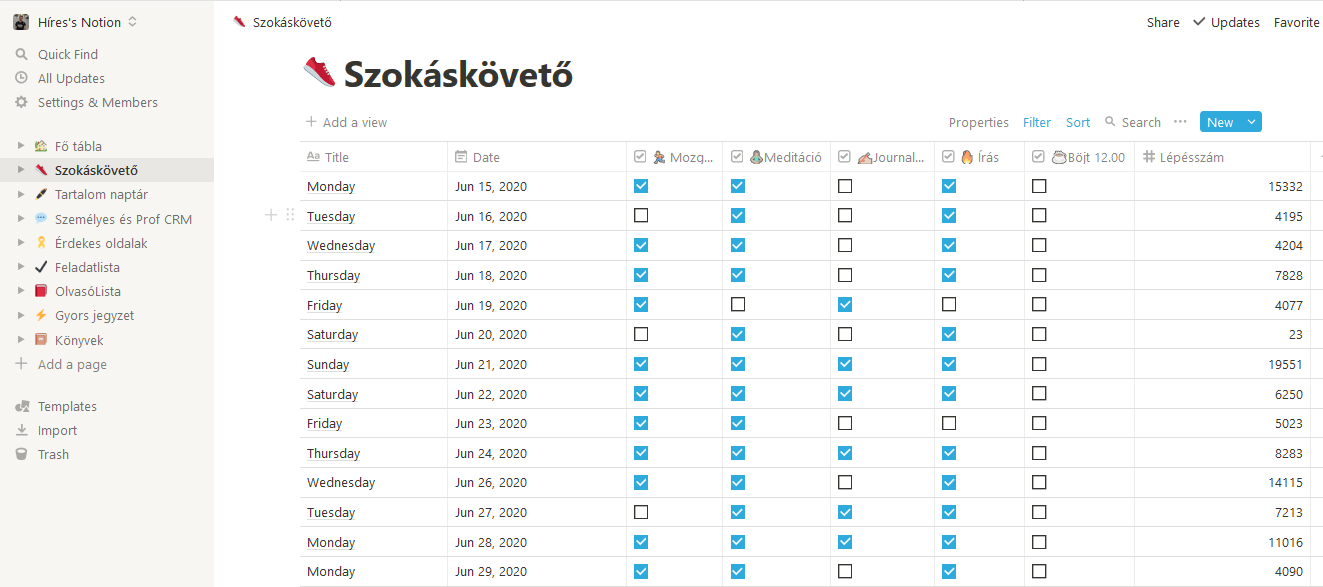 Personal finance tracker
Many people use Excel spreadsheets or Google Spreadsheet to track their spending. I do this in Notion too. Although my current system offers little more than an Excel spreadsheet, in exchange I have all the info in one place, and when planning goals, I have my financial data just a click away.
Revolut and other fintech companies have made automatic expense categorization available, but they can't handle payments with other cards and cash payments either.
I simply paste the monthly transaction list (XLS file) downloaded from the provider into a Notion spreadsheet, add a Cost Type column, and then I can see my spending categorized by tag. Each month gets a separate sub-page, so I can also see the monthly income/expenditure changes in one place in the summary.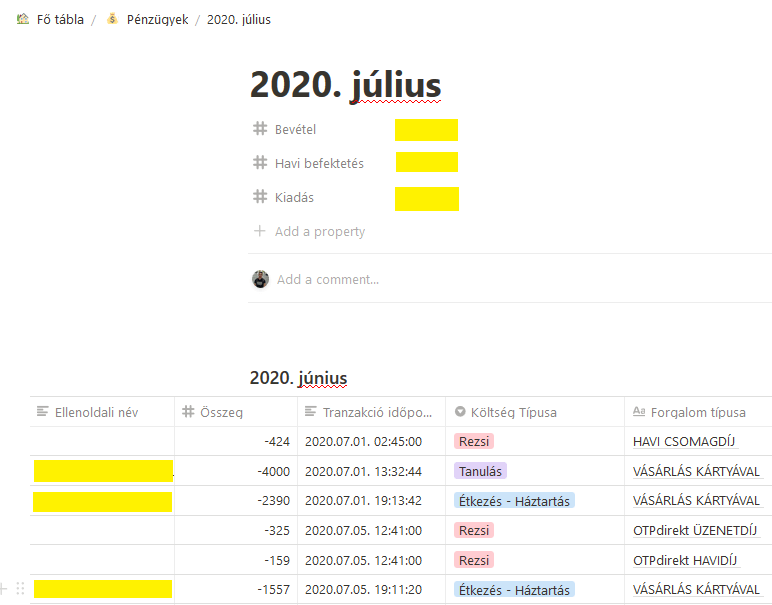 Personal knowledge center
In the Notion Web Clipper paragraph, I mentioned Reading List, Interesting Pages, and in Views, Books.
In addition to the three categories, I also have a Quick Notes page.
Its purpose is simple: it allows you to quickly jot down any ideas or thoughts that don't fit into the other three categories, or maybe really just a sentence or a quote.
Shopping lists will also be added here as a sub-page (like a checklist item).
To-Do & Journaling
Two pages also mentioned above.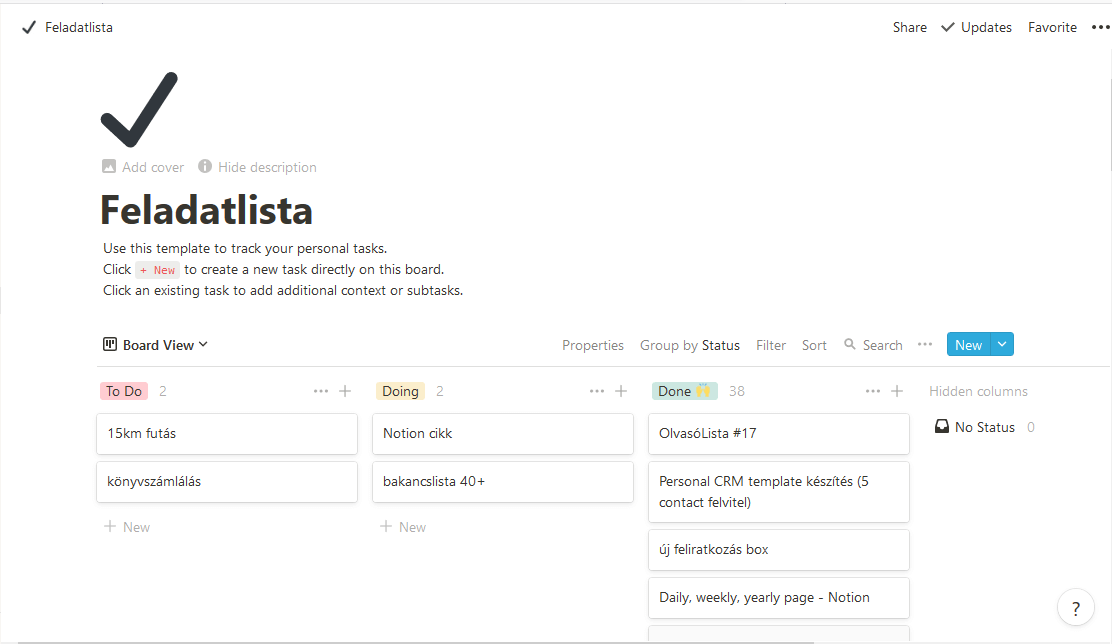 ...and the journaling template: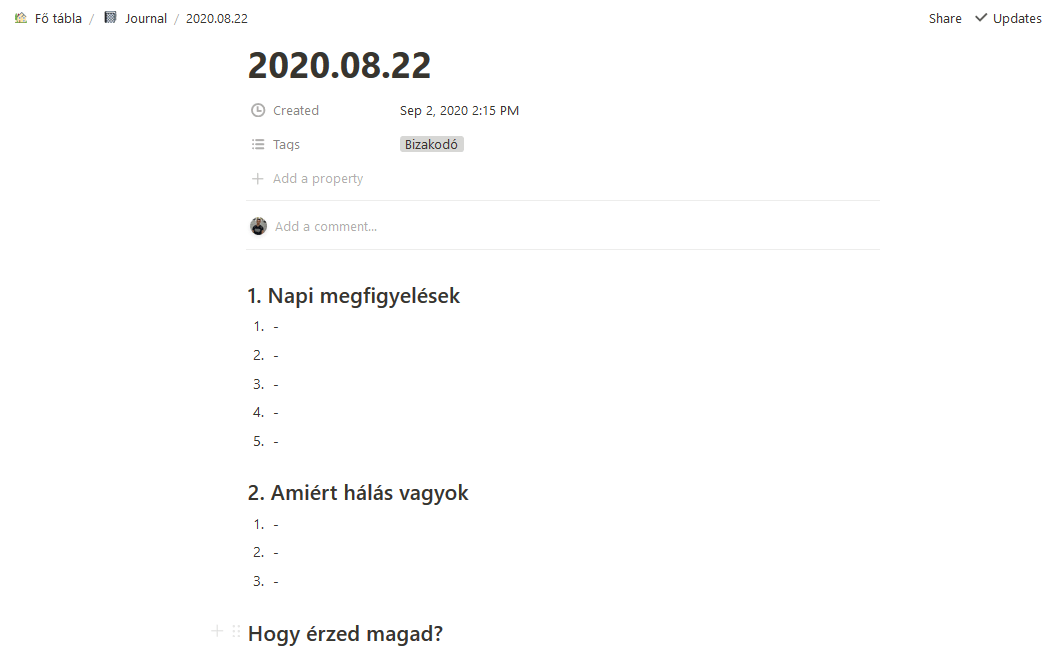 How to get started using Notion?
If you think Notion could be useful for you, you can register by clicking HERE. Previously there was a limit of 1000 blocks for non-paying users, but Notion removed this restriction, so you can use the app almost without limit.
As a free account holder, you can share your pages with 5 external guests. The paid version comes with unlimited guests, version history, and API access.
Useful resources
Want more content about using Notion?
Subscribe to my mailing list to get notified!