Growth
Best productivity apps in 2021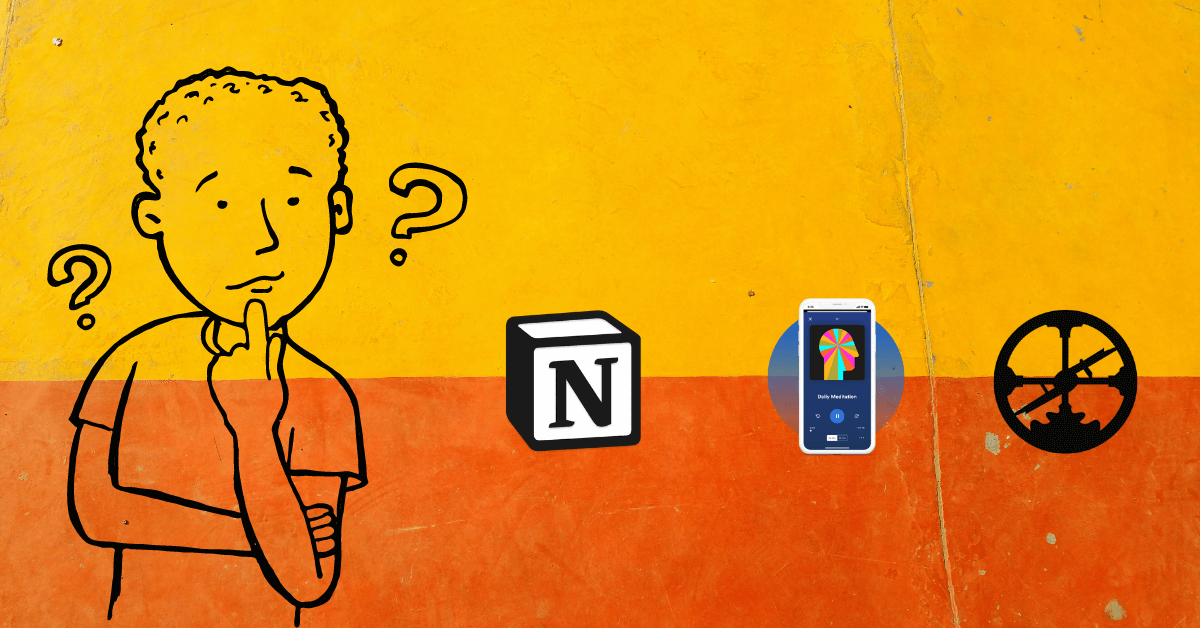 I start the day with a guided meditation session. I then flip through the latest articles from my favorite blogs and bookmark some. I listen to pleasant acoustic music at work. It's pleasant. The fasting period of intermittent fasting is over, which I record in the habit tracker.
One of the weirdest elements of my morning routine is that I have been able to incorporate several useful habits into my everyday life with the help of apps. With productivity apps.
This is a subjective list of the best productivity apps.
I will share with you:
A revolutionary note-taking app
A weird multifunctional productivity app
An information diet aid application
A fitness app
An app for listening to music and podcasts
A meditation app
Let's get to it!
1. Roam Research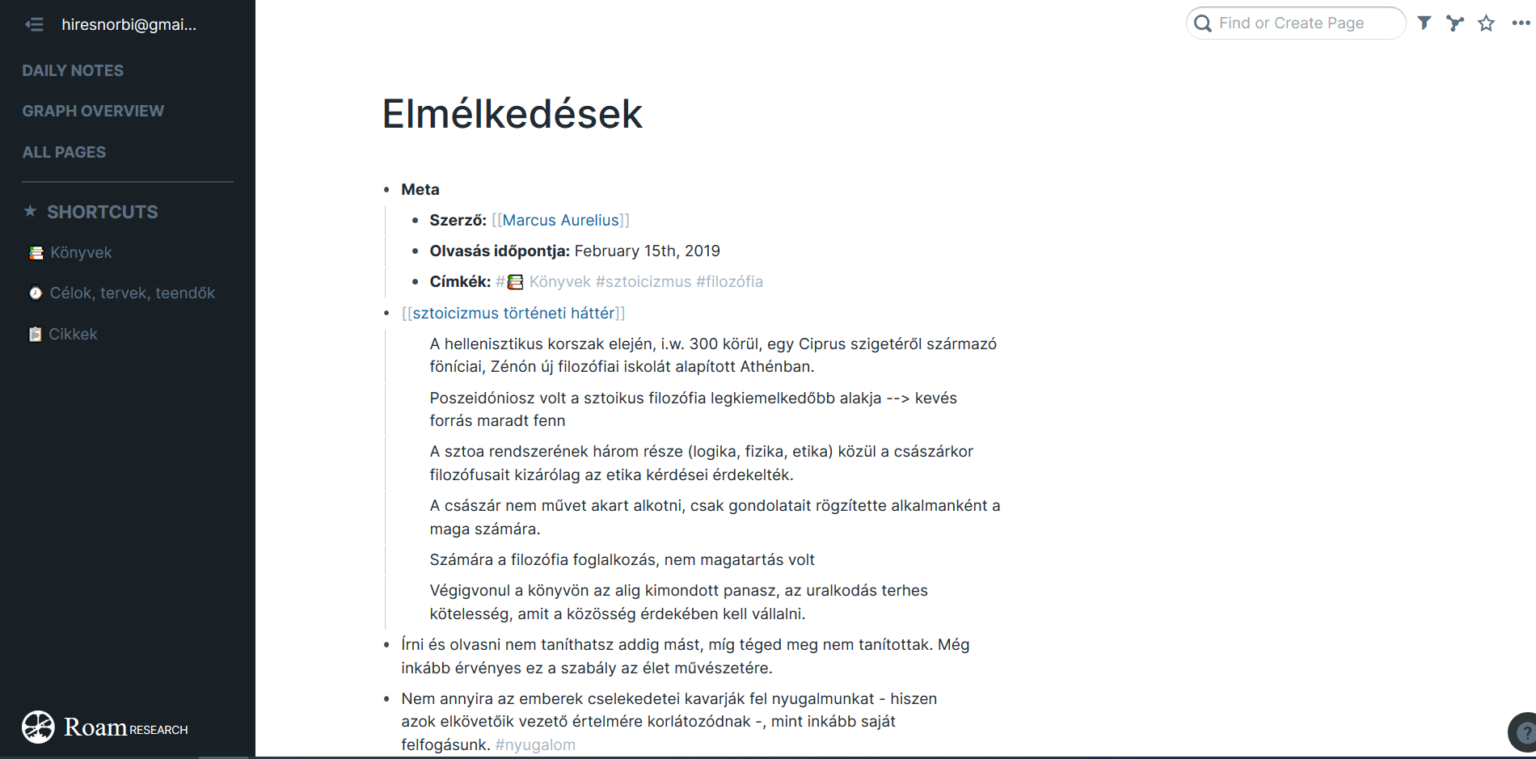 I like to read. Books provide new ideas, I often find quotes that summarize perceptions, references that I need to write down immediately. So it is with many other mediums. I learn about new trends from articles, I write down valuable ideas from podcasts.
If I don't describe these ideas, I won't remember them. And if I write, I will never re-read my notes and in the same way, I will not remember the ideas I recorded.
Traditional note-taking apps like Evernote, Microsoft OneNote, or Apple Notes are hierarchical. They force you into a structure. You create folders with these useful apps. Your notes organized in folders will be organized, but you will not be able to discover the connections between the notes in different folders.
Roam Research breaks with traditional note-taking and helps you to connect your thoughts. Instead of a tree structure, you create a graph with your notes that can refer to each other.
Connected thoughts help creativity. With the help of your notes, you can discover unprecedented connections between your thoughts.
App benefits:
It makes taking notes more efficient, it also helps to revive old notes
Structured blocks, unique elements, formatting options
Detailed guides for ultrafans #roamcult
Disadvantages of the app:
Cumbersome synchronization of different devices
Learning curve. It is difficult to learn to use the app. I had a feeling with the app at first that it was like we had to cut down a tree to make an ax that we could also cut a tree with.
The most expensive note-taking app with its $ 15 / month price.
Roam Research Alternatives:
2. Notion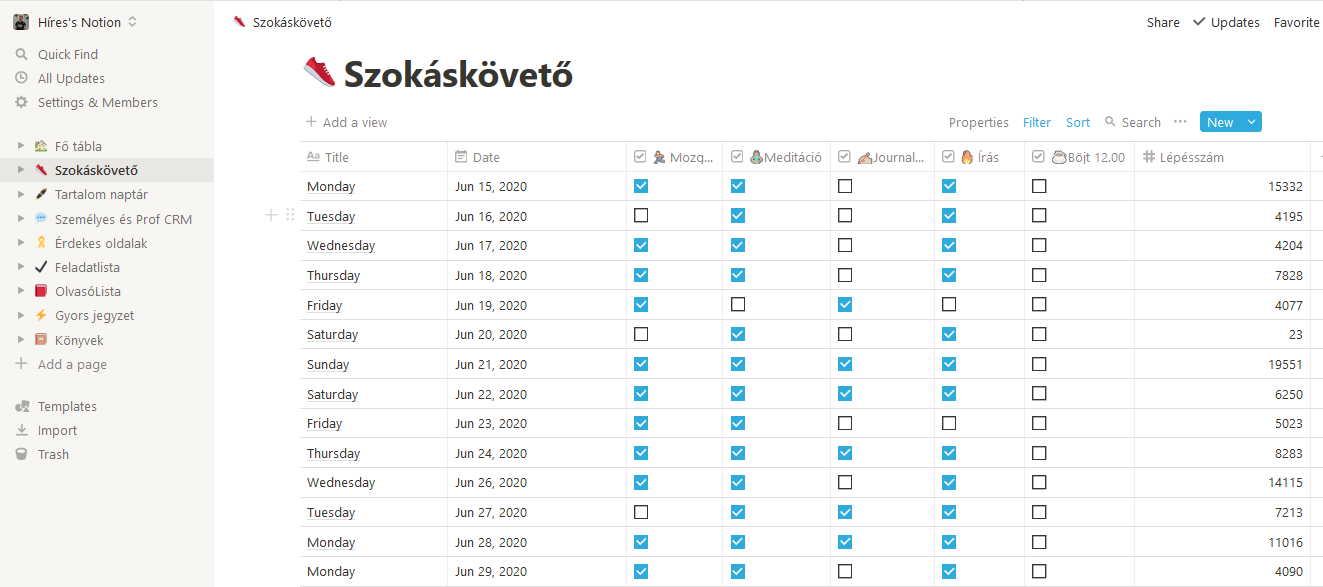 Notion is a Microsoft Word mixed with Excel, which in the meantime has grown into something much more useful.
Notion, which has been very popular with English-speaking productivity gurus for years, made the use of personal accounts free. Guided by curiosity, I also gave the tool a chance, but it made a whole new level of organization available to me.
I moved my custom tracking table, content production calendar, and notes, which I had previously solved with several apps, to the multifunctional app. The tool is also fully suitable for pursuing my quantifiable goals and planning personal finances.
In a video, Thomas Frank called Notion a visual programming language.
Notion is not just software, it's a tool you can use to build systems that solve your problems. If you want to bring a little more awareness into your life, take a look at what Notion is all about:
App benefits:
Flexible. You don't get a boxed solution, you build blocks.
It has strong project management elements (timeline, kanban views, assigning tasks to users, templates) and helps you collaborate with others.
Fast and easy to use with any device, easy to sync.
Disadvantages of the app:
It's easy to get started with Notion, but taking advantage of the app's capabilities requires a lot of learning.
Suitable for everything, yet not good for everything.
Notion Alternatives:
3. Feedly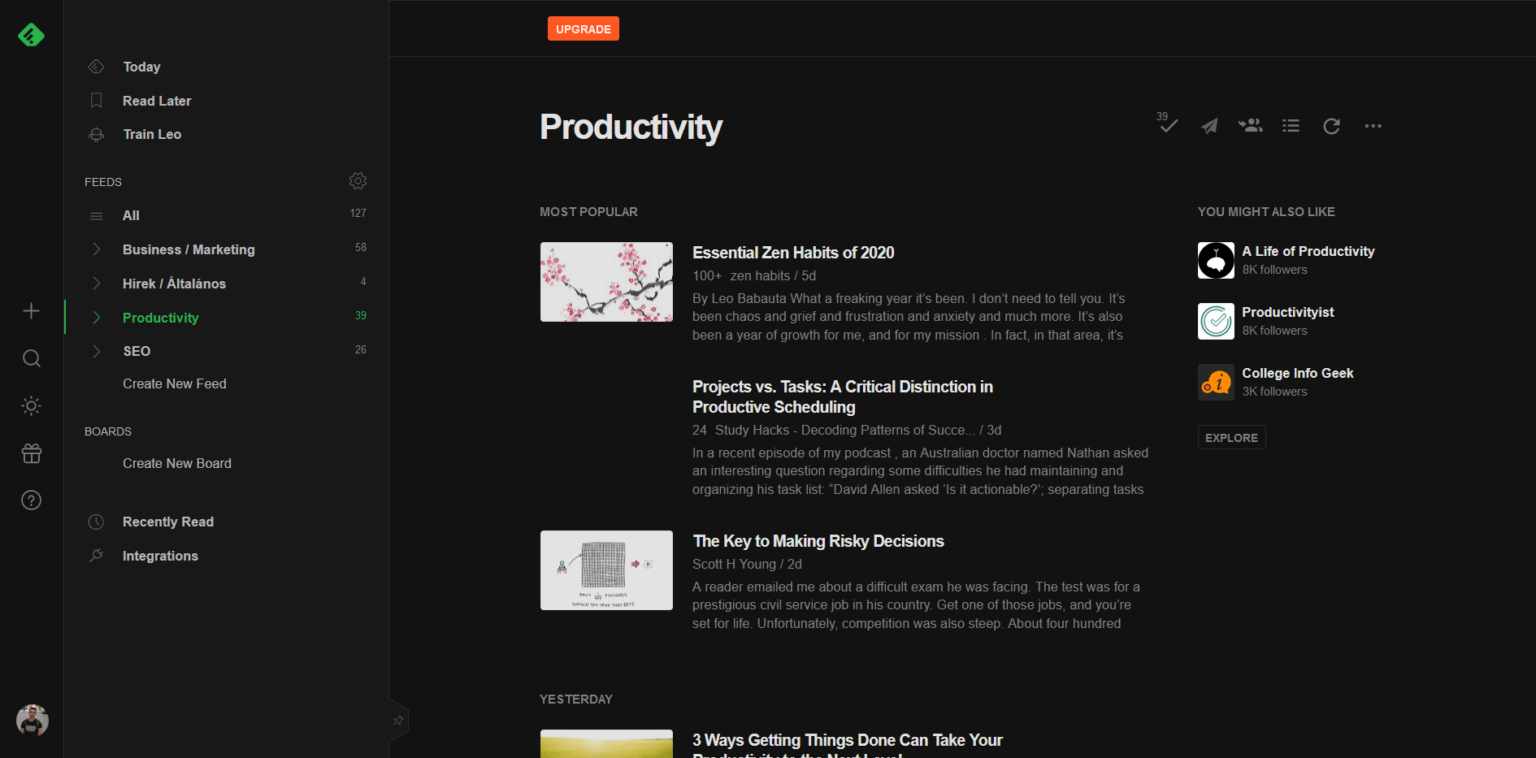 Feedly is a news aggregator app that can be used on iOS and Android platforms as well as in the browser. The app is much smarter than a simple RSS reader, yet its design is minimalist enough not to distract us from our favorite articles.
Information is constantly pouring out to me from every direction. Only selecting the right sources would last forever if no automated solution was deployed.
With Feedly, you can read blogs, news sites, Twitter and Reddit feed, and newsletters in one app without having to navigate anywhere else on the web.
We can label, categorize our sources of information, filter out noise, and focus on important content.
App benefits:
Easy to use the app
Helps us discover content we like
Smooth synchronization between devices
Disadvantages of the app:
Nor is it a typical fault of Feedly, but rather of aggregator pages in general, to encourage one-sided information consumption. You may also want to add various sources to your app that conflict with your opinion to avoid filter bubbles.
Feedly Alternatives:
4. Pomodor.app
A simple web page for applying the pomodoro technique.
We can customize the time we spend on focused work, we get notifications and we can also see statistics about our Pomodoro sessions.
You don't even need more than Pomodor for an effective Pomodoro session.
Let me overlook the pros and cons of listing such a simple app.
I'd rather show a couple of similar apps.
Pomodor Alternatives:
5. adidas Running App by Runtastic - Run Tracker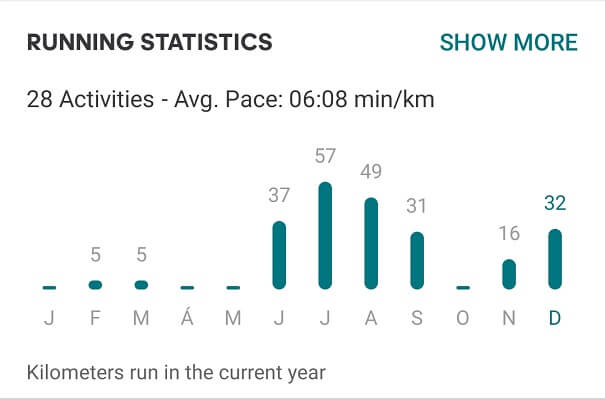 Do your New Year's resolution include running a marathon, or do you just want to run more?
You are more likely to achieve your goals if you measure them. Every little detail of your run is great to track with free or even premium apps. One of these is Runtastic.
I have been using the app since 2015 to measure my runs.
Out of curiosity, I also tried other fitness apps, but due to various problems (loss of GPS signal, inaccurate measurement, "clutter" with other apps), I always returned to Runtastich.
App benefits:
Accurate measurements, reliability
Useful statistics
Training plans, goals, challenges
Disadvantages of the app:
I haven't experienced it, but some of my friends complain about losing the GPS signal.
The app is constantly (and increasingly effectively) driving the app toward the premium version, while also matching us with a pair of Adidas shoes.
Similar fitness apps:
6. Spotify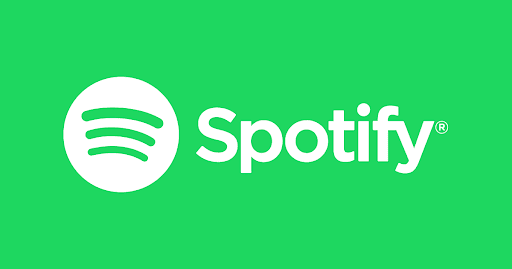 While writing the article, the daily mix of Spotify is in my ear, and not long ago I was listening to my favorite podcasts while running. Free podcast apps and semi-legal music stream applications have caused me so much annoyance that I've been consuming all sorts of audio content with Spotify for a couple of years now.
The limitations of the free version (ads between songs, offline downloads, lack of any listening order) gave me enough reason to get on the Spotify Premium train.
If you want to listen to good music and don't want to stumble down the stairwell while a random app is slowly suffering from a single podcast episode, you might want to give Spotify a chance.
App benefits:
Excellent sound quality
Custom testers, mixes, radios
Fast download, listen to music and podcasts offline
Disadvantages of app
Without a premium subscription, many important features are not available
Spotify alternatives
7. Waking Up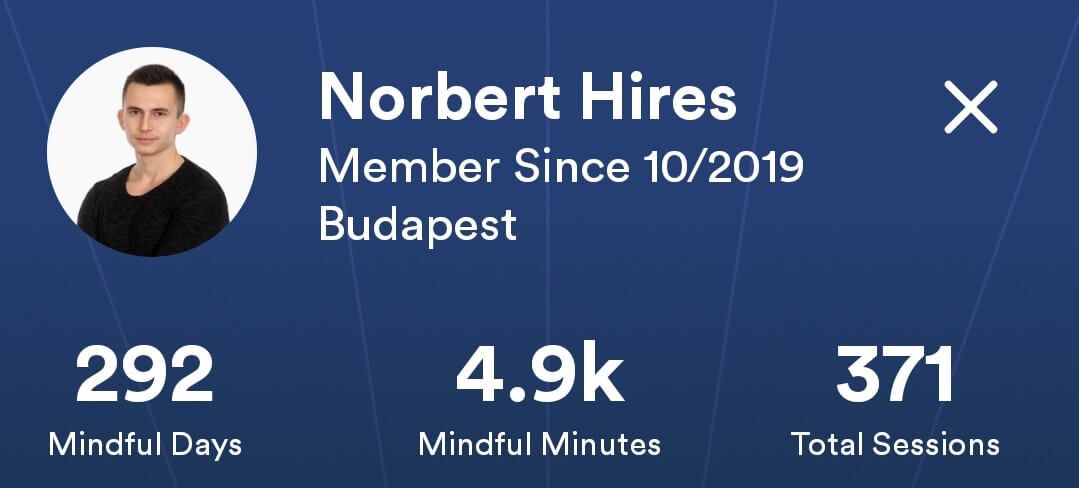 If you're looking for a meditation app online, you can find the rightfully popular Headspace in seconds, closely followed by Calm.
It's a smart solution to try both apps.
I chose a slightly different path in choosing the right meditation app for me. I tried Headspace, I liked it, but after 7 days it didn't convince me. I then practiced with a lesser-known app (Insight Timer), which includes meditation sessions from several instructors.
This is how I came across Sam Harris's guided meditations, which proved more useful than any previous guide.
It turned out that Sam Harris recently launched his meditation app, Waking Up, so I gave this app a chance too.
The app begins with a twenty-five-day introduction in which Sam Harris introduces us to the basics of meditation. After the introductory occasions, we will receive a new meditation every day, as well as access to guest instructor courses, spiritual lessons, and thematic conversations through the app.
I've been meditating with Waking Up for over a year now and I can only recommend you both the app and meditation.
App benefits:
Clear guides, high-quality lessons
In addition to guided meditations, extra content (lessons, conversations)
Disadvantages of app
Sometimes the app is buggy. It does not download the audio for offline meditation, it does not accurately count occasions in statistics.
Spotify alternatives
This is my subjective list of the best productivity apps.
What would you add?