The surprising effects of starting a blog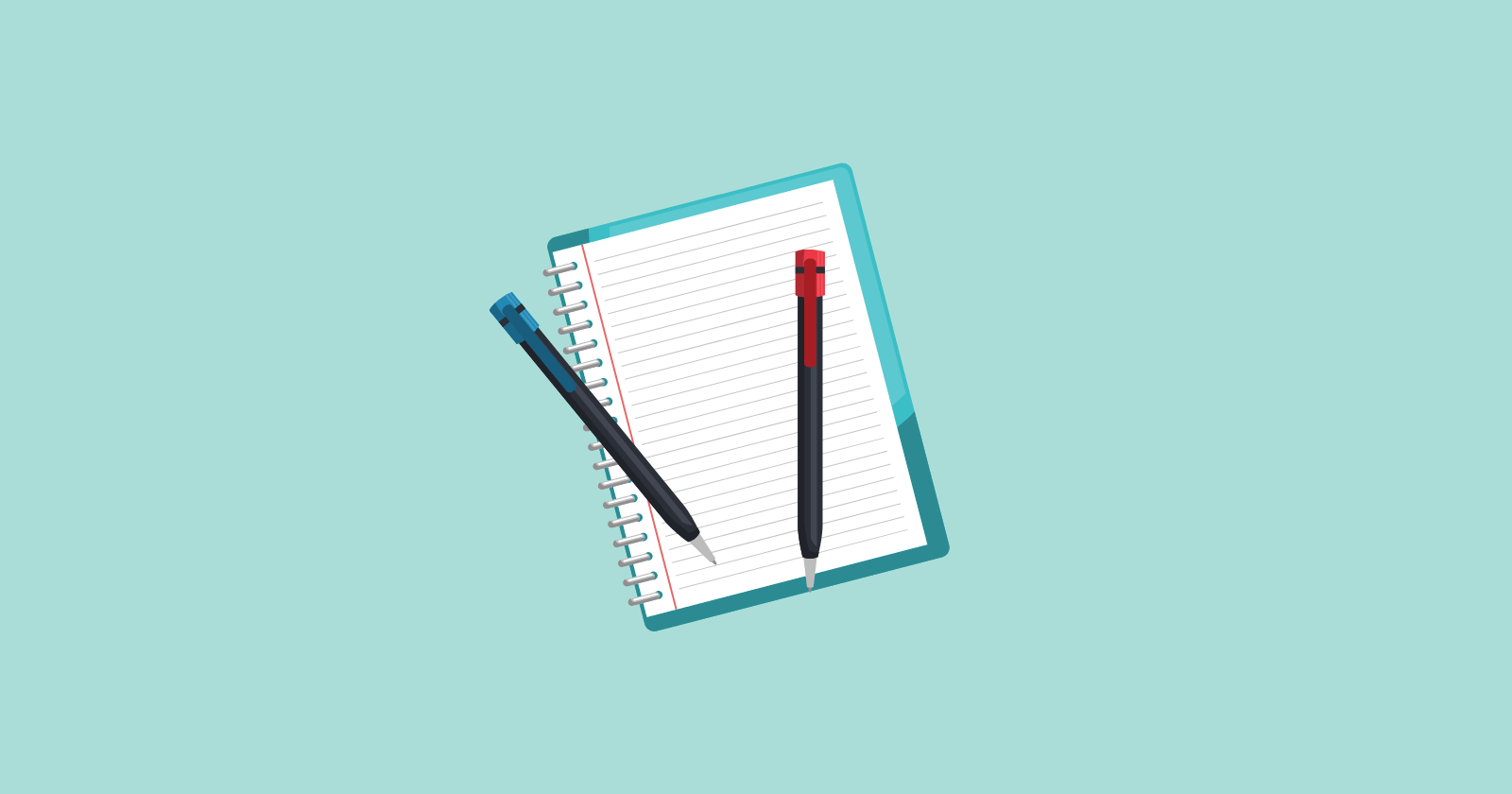 I started to experiment with search engine optimization three years ago. After completing countless courses, reading online marketing books and professional articles, I have started to get a sense of what SEO is all about.
I soon realized that if I wanted to get results with search engine optimization, I had to get my hands dirty.
I started writing book reviews and then published articles on productivity and effective learning on my small hungarian website.
I researched and wrote articles about productivity, and sometimes I shared insights connected to SEO, marketing or emerging trends.
In the last one year, more than 150,000 readers visited the blog: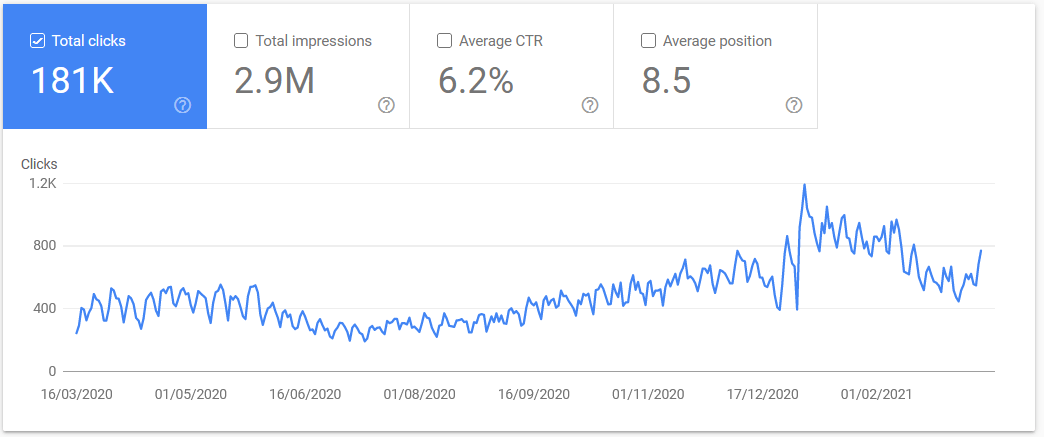 89% of users came from organic search.
Perhaps the simplest reason for this is that I haven't used any other channels to promote my articles other than sharing them on one or two Facebook groups.

These are not remarkable results. Anyone can achieve similar, if not greater, growth.
This is the purpose of this article: to help if you are thinking about blogging but don't know where to start and have no idea what to expect.
I have condensed two years of trial and error into this article and put together a bunch of number-based advice that will work in 2021.
1. It's easier with skin in the game!
My website is not the first blog I started to learn about search engine optimization.
Intermittent fasting blog
While listening to content marketing courses, I found a niche (I thought) and started writing a blog about intermittent fasting. In English.
Using Twitter bots, I gathered thousands of followers and tried the same on Instagram back then. Every day for two months, I created random images with fasting-related quotes. I did all of this while writing 1000 word SEO optimized articles to rank for intermittent fasting related keywords.
To my surprise, much of the traffic came from social media platforms, while articles bounced between Google's second and third pages resulting in almost zero clicks.
It soon became clear that without links, one could not move a needle in a competitive market. The entire fasting blog ran anonymously during its one-year short life. I didn't want to tie it to my name, as some experienced affiliate marketers said you can get out of such a thematic blog on pretty good terms. So far, however, I have not reached a level to even think about the exit.
Without results, I didn't feel motivated enough to start writing guest articles (which I had to do to have a chance to rank). Since I didn't have much personal involvement in the project (except for a few hours and the cost of the domain/hosting), I didn't renew the domain.
Of course, the acquired knowledge was not lost. Complementing what I learned with my personal experiences, I also wrote an article in Hungarian about intermittent fasting which had much better results.
Blog under your name?
I stopped the intermittent fast blog because I didn't feel motivated enough. Although I didn't have a topic for the new experiment yet, I was sure of one thing: I will write under my name.
At this time, I was writing my dissertation in international relations, so I connected the pleasant with the useful.
I wrote articles about the connection between social media and the Arab Spring and another about political startups. In the meantime, I changed language.
I wrote in Hungarian because I felt the Hungarian SEO landscape less competitive and I thought may I even have a chance to rank without backlinks.
I thought about the name of the new blog for three months, while I was reading books and writing summaries about them. I didn't have a major topic of what I was going to write about, it was just some ideas that interested me. That's why I registered a domain under my name and the adventure began.
Are you afraid of what your friends will say when you start writing a blog?
I can assure you, no one will care.
Sometimes I also share articles on my personal Facebook profile. The first few articles were new for my friends so more than 100 of them clicked to see what's happening. After I shared another, nobody cared anymore.
Many of my friends are not at all interested in the kind of content I share on the blog and that's fine. However, it is a great idea to give your name to a project to make you responsible for it.
"Content marketing doesn't usually fail because of content quality. The main reason is because it's inconsistent or it stops," — Joe Pulizzi
So don't stop.
For me, articles published under my name have allowed me to stick to one blog instead of trying and failing with different ideas.
Everyone doesn't need to start a blog under their name, but it's worth taking your skin to a fair at some level.
2. You can live without backlinks
If you want to start a blog in Hungarian (or mostly in any language except English), you will likely find topics and keywords for which the best results are short, low-quality articles without backlinks. I didn't think so, but with quality content that satisfies search intent, it's possible to fly to the top of Google's results without any links.
However, basic domain authority comes in handy. I only wrote a few guest articles, but once they appeared, Google crawled my new content sooner, and the effect of backlinks on my positions was definite.
I got a lot more from guest blogging than a backlink or two. I had the good fortune to work with editors who pointed out the typical errors in my writings and provided some useful advice that I have been trying to apply ever since.
Do you constantly create content for your blog?
Then guest blogging is a great opportunity to descend from the ivory tower, meet new people, learn about different ideas, while also reaching out to readers who would never have found you otherwise.
3. Experiment, but don't overcomplicate
Before launching the blog, I sacredly believed that I was more interested in the technical rather than the content parts of SEO. Although I'm not sure about that anymore, my website helped me test the latest technical innovations and do seemingly crazy things in a controlled environment.
I tried every possible plug-in to speed up page speed, corrupted the https migration of my page, and then fixed the bug. I tested Schema markups with extensions, learned the basics of using Google Tag Manager, and inserted and tested Book and Review markups with JSON code. I tied up a CDN and made a myriad of minor changes that I could talk about with childish enthusiasm until morning.
Most of the experiments had little effect on the organic traffic of the site.
I had to see that the extra star and half sentence though looks pretty, but that's hardly why readers click on my website.

At the end of the day, not the star matters…
Since I paid a lot of attention to incorporating technical SEO principles when starting the blog, I couldn't expect significant results from the small changes later.
It's worth experimenting constantly, however, most of the time, not the current trendy plugin or extra line of code will make or break your SEO success.
Write quality articles and publish it regularly on a fast, SEO optimized website!
If you use WordPress, install Yoast SEO, or RankMath plugins.
Speed ​​up your blog with Autoptimize, W3 Total Cache, or any sympathetic plugin.
Most of the time, this amount of technical knowledge is enough to start a blog and get traffic through SEO.
4. The effects of regular writing
"How many pages have I produced? I don't care. Are they any good? I don't even think about it. All that matters is I've put in my time and hit it with all I've got. All that counts is that, for this day, for this session, I have overcome Resistance." — Steven Pressfield
With unique design, backlinks, and structured data here and there, I had to realize that the greatest results come from regular writing. In August 2019, I decided to publish at least one article every week until the end of the year.
Although I was optimistic about the initial results before August, the consistent work took the blog's organic traffic to a new level.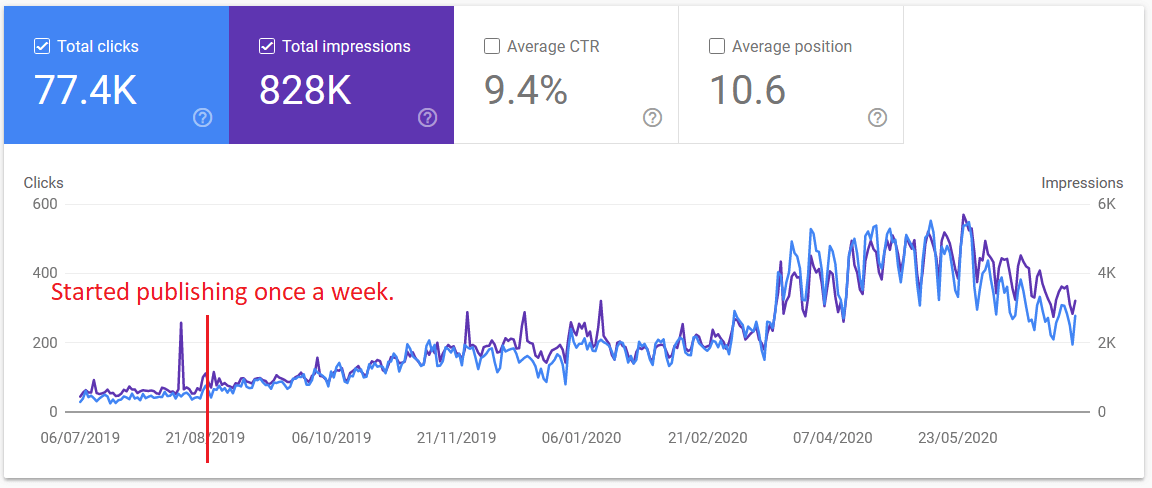 There's another tiny ingredient to what I've experienced since August. I write a significant portion of my blog posts without a focus keyword, and without targeting a minimum monthly search volume with them.
When I wrote down my article ideas in August, I was already consciously looking for terms that more people were looking for. So I wrote about, among other things, creating a mind map or practicing intermittent fasting.
On several occasions, the most research-intensive and longest writings didn't pay off at all, while articles that were thrown together in an afternoon, quickly caught a good ranking for the selected keywords and have been directing hundreds of visitors to the site ever since.
You can't know for sure what will perform well in the search engines, so under the law of big numbers, the more articles you write, the better your chances of success are.
Since the launch of the blog nearly half of the 70 articles receives daily visitors from search engines.
So it's worth writing regularly.
5. You learn a lot while writing
Research
If you want to write quality articles, you will need to do some research, regardless of the topic. I write about topics that I would like to know more about.
I suggest this to you either!
One of the best ways to learn is to teach, as it encourages us to summarize and pass on our thoughts without frills. Reading an article or book is not in itself a guarantee that the advice contained in it will be applied or memorized at all.
When I felt like I wasn't working effectively enough, I did not only read 2–3 books on the topic but set a goal to first put what I read into practice and then gather the working piece of advice in one article.
That's how I wrote about productivity and that's how I incorporated productivity tips into my life that I would otherwise have slipped over.
New skills and creativity
I don't consider myself creative.
For me, writing itself was already an experience outside of my comfort zone, but with the articles, I started off the slope. Since articles of 2,000 words can't just be published alone (if you want anyone to read it), I first produced custom illustrations with my limited creativity, and later, moving away from basic WordPress templates tried to create a custom theme.
In the meantime, I launched a newsletter, the ReadingList, which was also a new format for me.
If I hadn't achieved any results with the blog in the last year, it would have been worth it. In addition to acquiring marketable skills, writing also significantly shaped my thinking.
Extra tips for creating a blog
Where to blog?
Although there are many different platforms available on the Internet, the question in Hungary is usually limited to whether to launch a Blog.hu or WordPress site. (By WordPress, I mean a website served by my own hosting and unique domain name, not wordpress.com websites.)
Blog.hu, Medium.com, and free blog providers
Blog.hu and Medium.com provide an easy-to-use interface for entrepreneurs to write a blog, so anyone without any special technical knowledge can start publishing on these "free" platforms.
The strongest argument in favor of blogs running on Blog.hu is that quality content can make it to the front page of the Index or be selected by publications in Medium, which can sometimes result in thousands of visitors. If we only look at my site based on the number of visitors, then a few weeks of Blog.hu blog may be able to produce similar results with only direct traffic.
However, I would not choose Blog.hu or Medium alone.
Like most free blog providers (reblog.hu, cafeblog.hu or wordpress.com, medium.com), blog.hu binds you in countless areas. The platform operator may file bankruptcy, delete your articles, or make them paid for at any time, or make your organic access impossible if you do not join the paid bloggers club.
WordPress and self-hosted blogs
If you want to be in control of your articles yourself, if you want to decide whether or not to display ads in your articles, or if you want to better customize your blog, you should choose a content management system (CMS). e.g: Drupal, Joomla, Craft
For starters, you should choose a CMS that many people use, so there are countless tutorials on the Internet for it.
According to a W3Tech survey, in 2019, 35% of all websites in the world used WordPress.
In addition to tutorials, it's the last resort to develop more themes and extensions for popular content management systems, so you can easily customize the look and expand your features without technical knowledge.
For a few dollars, you can now buy good hosting and a domain, where you can install the most popular CMS systems with a few clicks.
Is it worth writing a blog?
It depends on what your purpose is with the blog. Do you want to make money? Do you want a passive income?
Few bloggers can make serious money from displaying ads, but if you offer your readers a service, online course, or book that is relevant to your blog, a blog can be a worthwhile investment.
Content marketing is especially effective for webshops and products that require education.
For me, it's not because of its financial aspects that it's worth writing a blog. I don't make money with my writings. Towards the end of the article, you are waiting in vain for a call-to-action. Do not.
I believe that it is worth proving first that you understand a particular topic before you start offering courses or providing services.
Maybe that's why I chose search engine optimization.
Maybe that's why it works.