Marketing
Biggest Ghost Websites & My Favourite Newsletters
Let's learn from some of the biggest blogs on the internet running on Ghost. Check their themes, design and SEO performance while I expand the list with my favourite Ghost newsletters.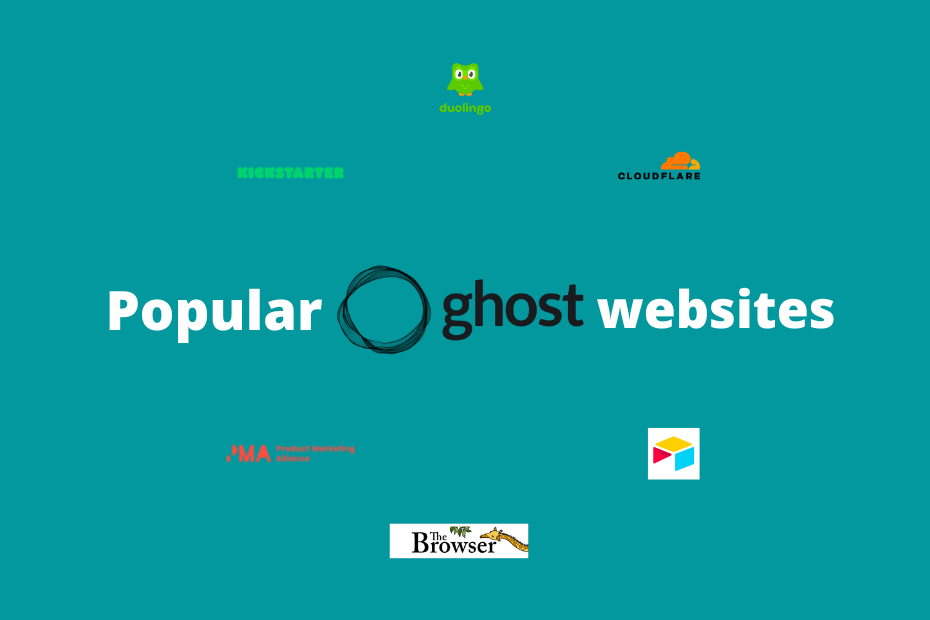 Ghost is a modern blogging platform with built-in membership functions, a newsletter, and a clean design that comes with great page performance and SEO.
I am running this blog on Ghost for a while now and have written an honest review about the experience earlier. Today I want to take inspiration from big websites using Ghost and share my favorite newsletters with you.
When you pick a tool - be it note-taking software or website CMS - you join an ecosystem. Every tool got its own constraints, capabilities, and communities.
There are limits to what can be achieved with a Ghost blog, but big brands and smaller creators are playing with these constraints.
I want to show you today these blogs.
I hope this information can help you decide whether Ghost is the right CMS for you if you are in the process of finding one. I also take a sneak peek at some of these websites' SEO games to show you what's possible.
Where to find Ghost websites?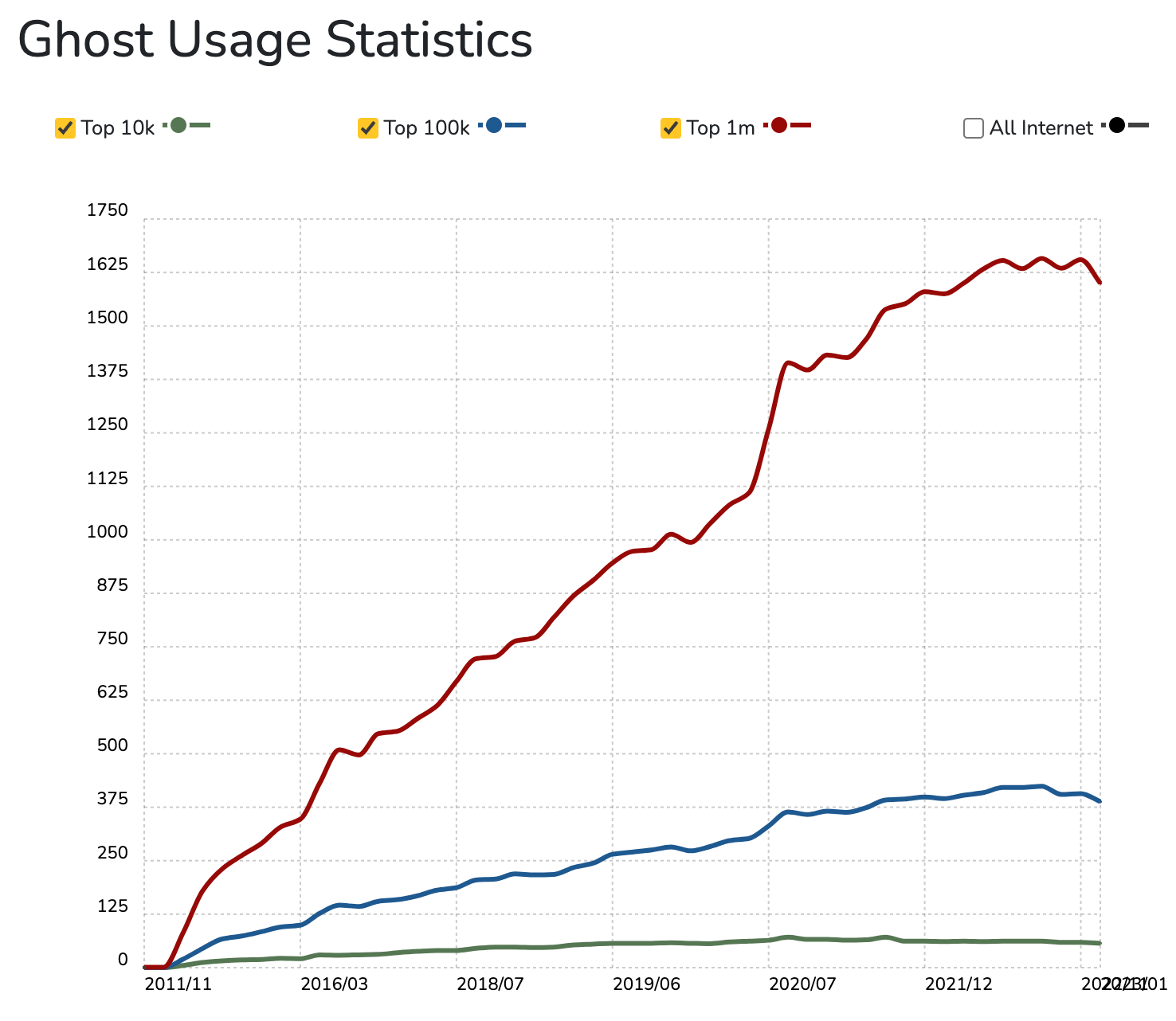 I used three sources to find the Ghost websites I am about to share with you:
Ghost Explore: The official Ghost website has a creator network, a list of websites running on Ghost submitted by their creators. You can opt-in to show subscriber and revenue figures on this list which makes it even more useful when it comes to research like this.
BuiltWith: BuiltWith is looking into the source code of almost every website on the internet and trying to give statistics about the usage of certain frameworks, plugins, and blog content management systems as well.
My Inbox: I am subscribed to several newsletters running on Ghost. Besides the big names, I want to share my favorite creators, because not just page performance, and design, but the quality of content is an integral part of a great website.
But get right into the middle of it and start dissecting the Ghost websites.
1. Kickstarter Blog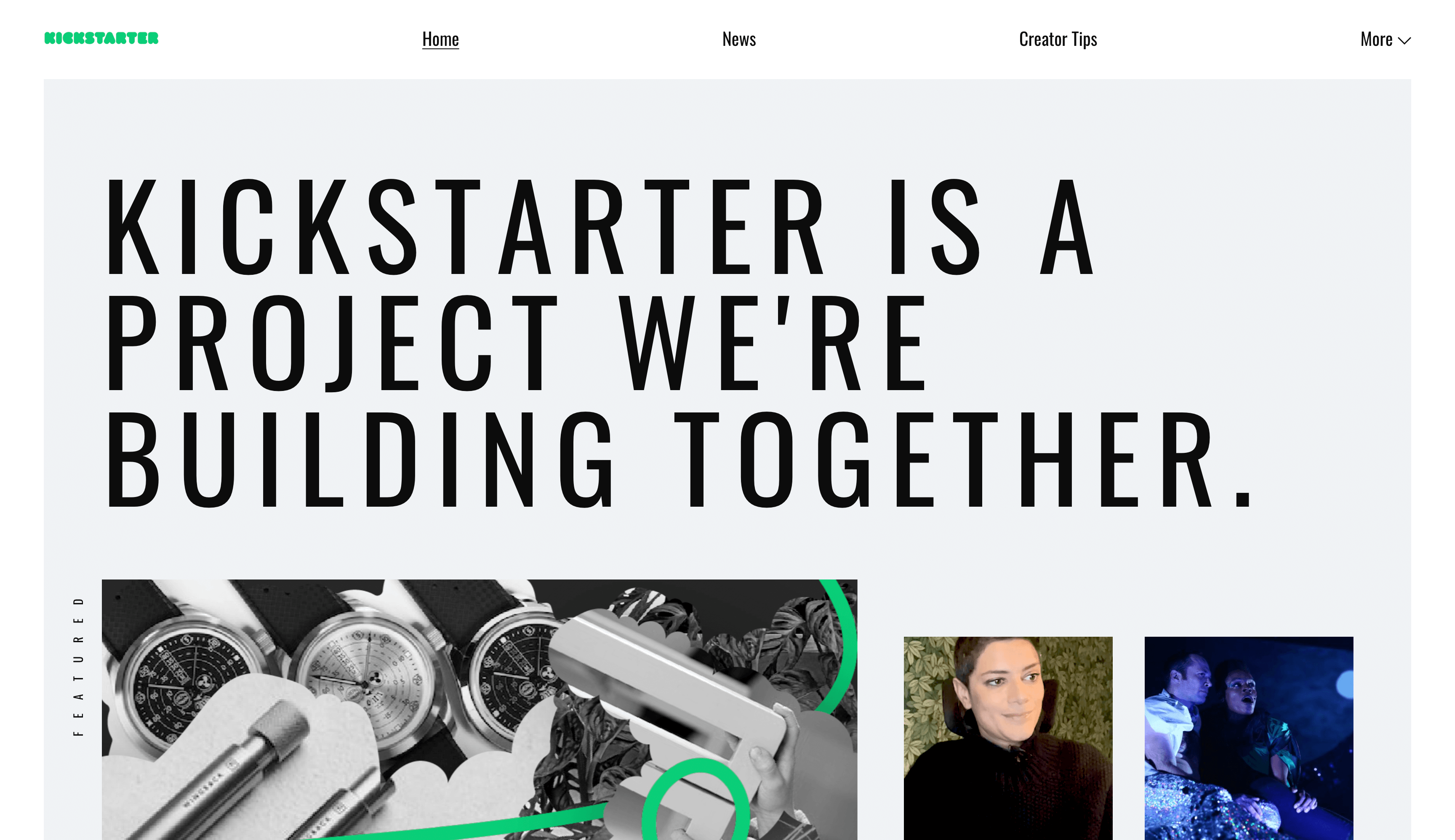 The popular crowd-funding site, Kickstarter has chosen to run its blog on Ghost. They are sharing mainly product updates, stories about successful projects, and tips for creators trying to tap into crowdfunding to finance their plans.
They are elegantly balancing long-form guides with shorter announcements on the blog. High-quality, original images are also a part of the experience.

The Kickstarter blog is not playing the SEO game, that's visible from the type of articles they are publishing. They are attracting an estimated 1.2K traffic / month from searches according to Ahrefs.
2. Product Marketing Alliance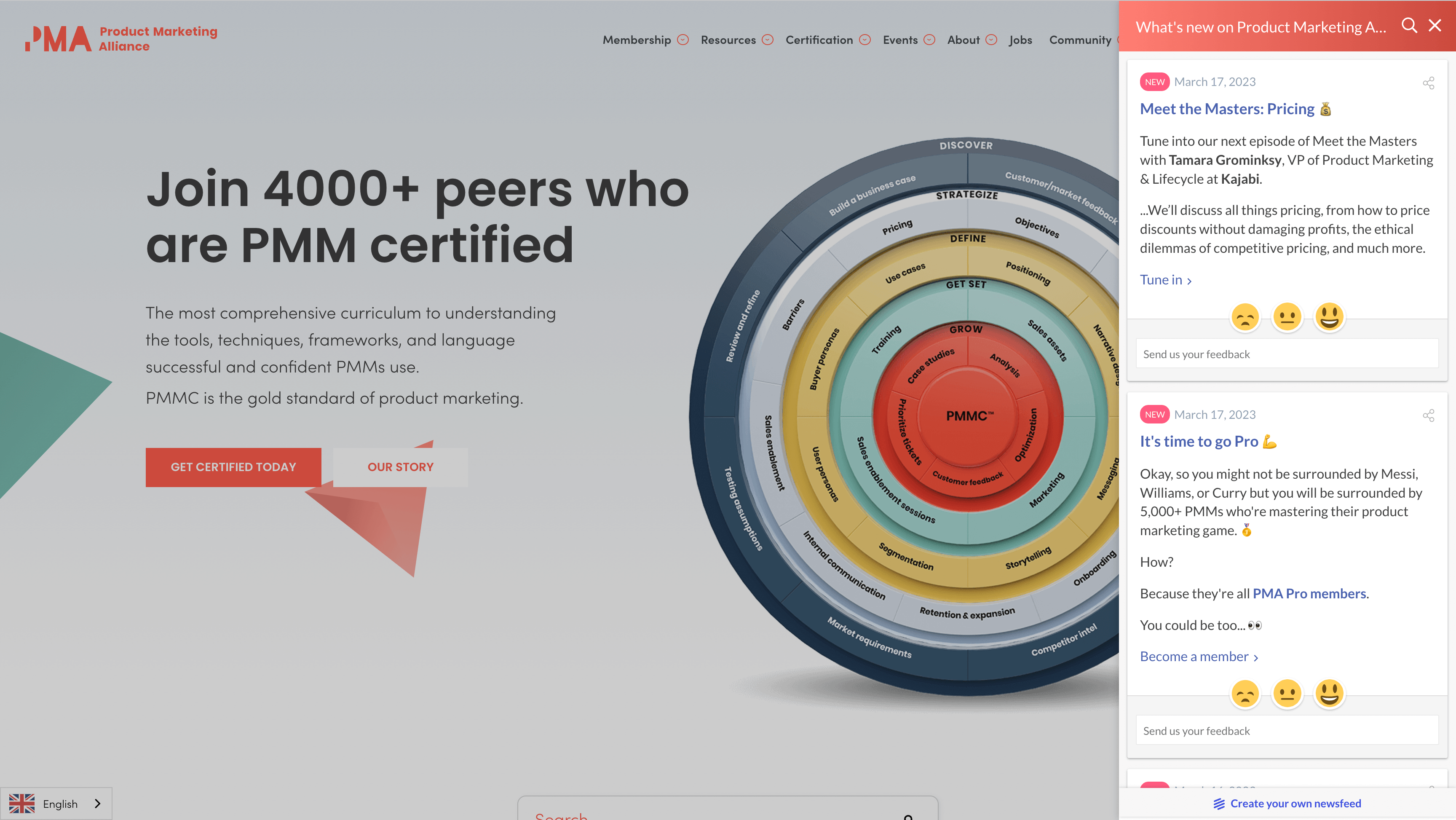 The website of the Product Marketing Alliance provides great examples of how to enhance a simple Ghost website with other tools.
They have quit a marketing stack.
They are using:
And they are maxing out the social sharing games with small icons all around the screen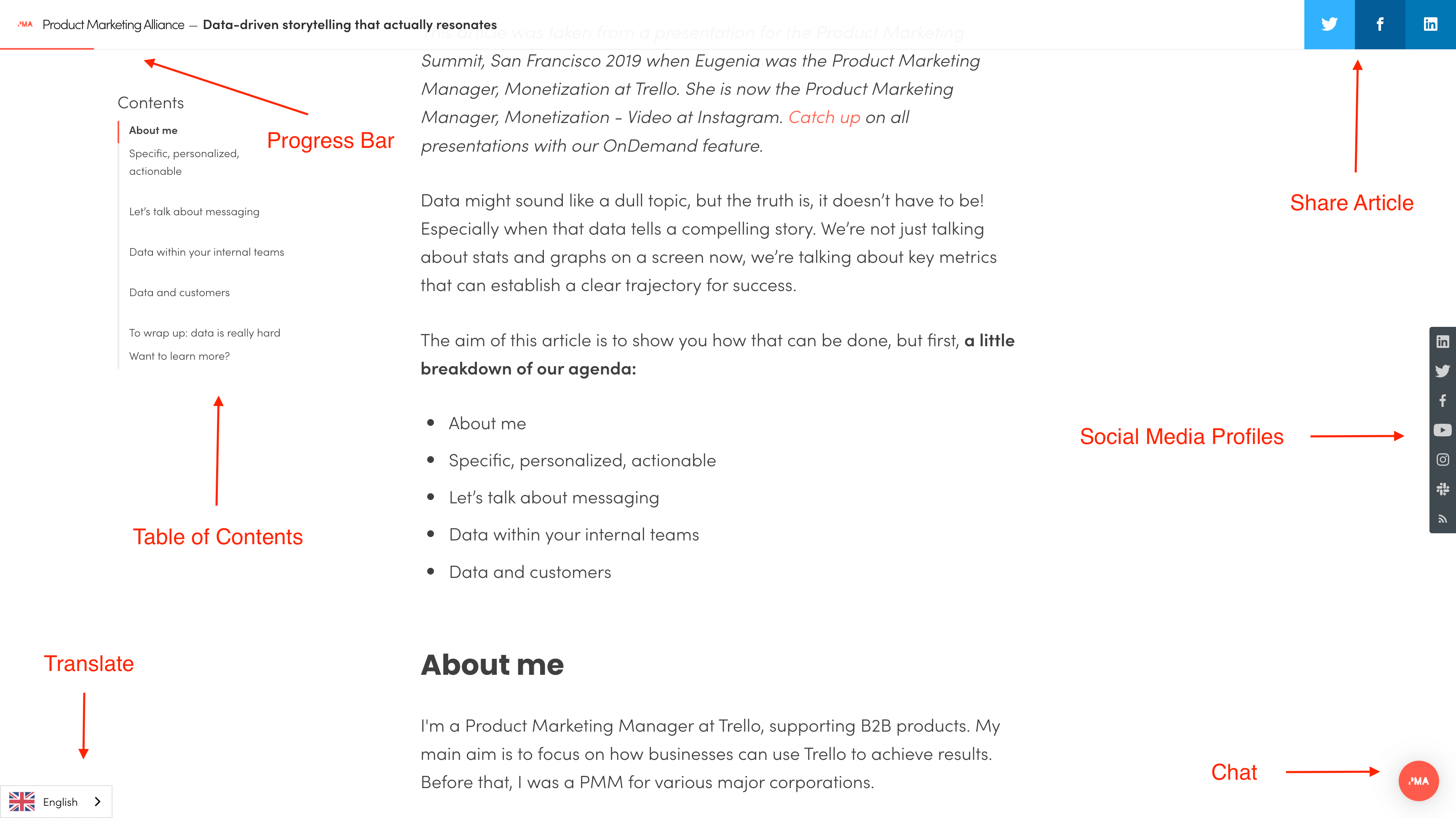 Despite the hard-to-follow features and probably suffering Core Web Vitals, their SEO strategy is performing quite well building on top of the solid SEO foundations of Ghost.
The Product Marketing Alliance is driving around 34.K organic traffic monthly, and they are doing this mainly with non-branded keywords.
So it is not that a big brand is receiving a huge chunk of organic traffic to their branded terms they would rank for anyway, but they are ranking for competitive keywords like "market positioning" or "go to market strategy".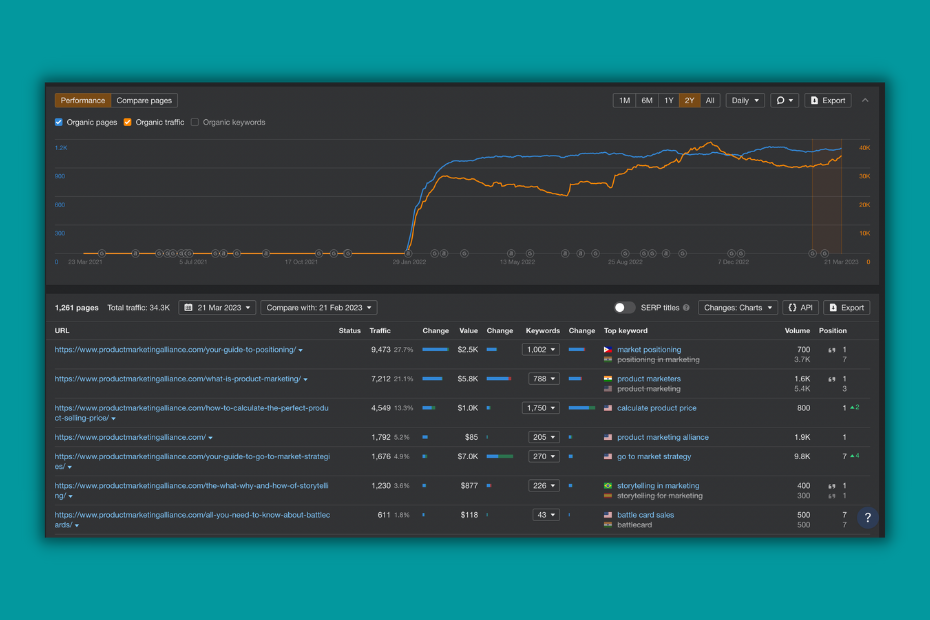 Though I have to mention that Ghost would not bring this kind of result alone. They know content marketing, they know how to on-page optimize for SEO, and they have expertise and authority about the subjects they are writing and teaching.
And they put in the work.
This beast about GTM strategies contains for example 4500 words.
3. Jeff Su - Productivity Ping 💡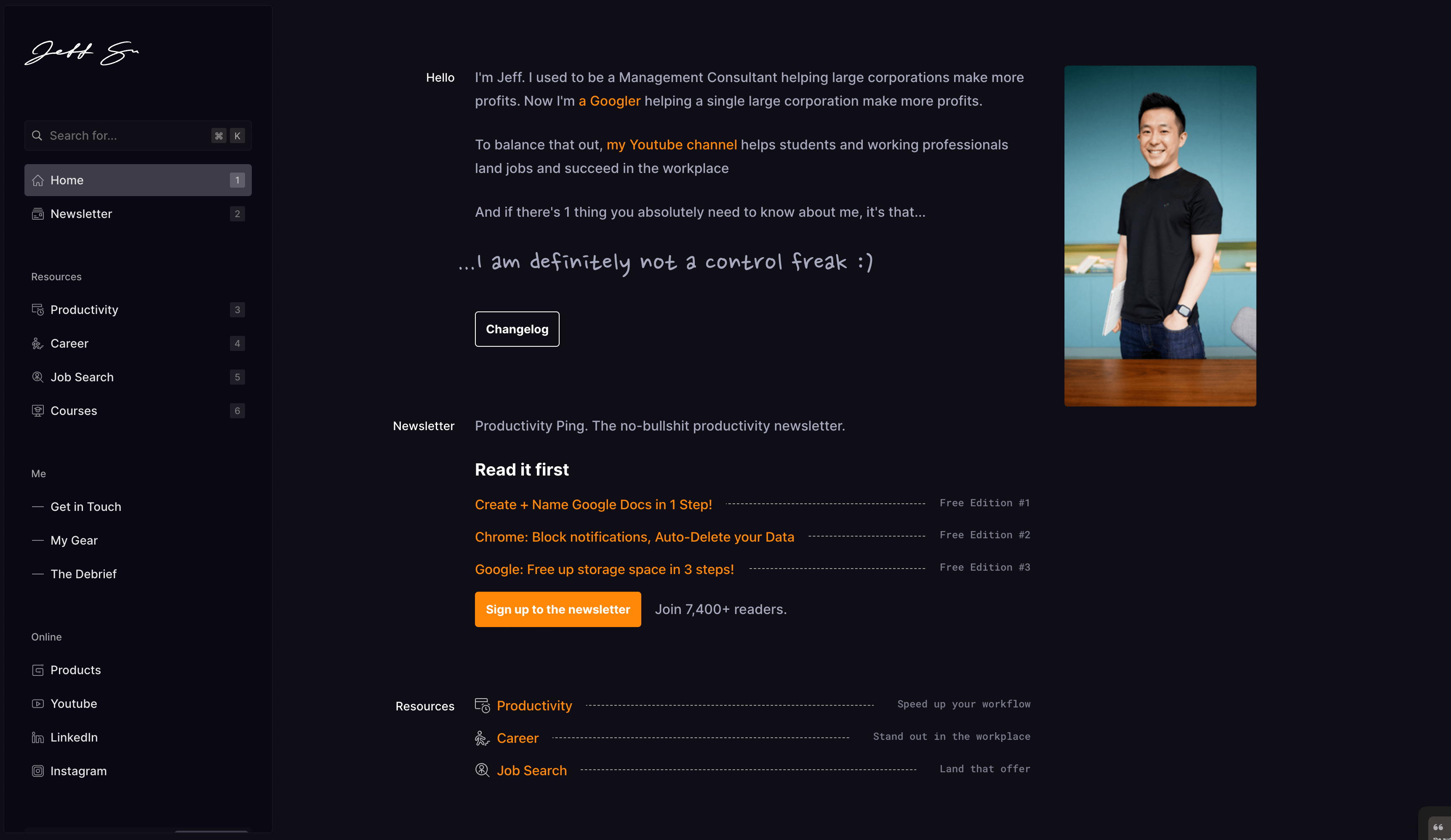 Jeff Su is a productivity YouTuber (and Product Marketer to refer to the previous website). He got 440 million subscribers on Youtube at the point of writing this article.
On his blog / newsletter he is sharing practical productivity tips and carrer advice. We basically got a snippet of his wisdom from Youtube in written form.
Though the majority of his written content is behind the Ghost Paywall and visible only to subscribers. Jeff is running a paid-only model and based on the Ghost Explorer numbers he got around 7K paying subscribers.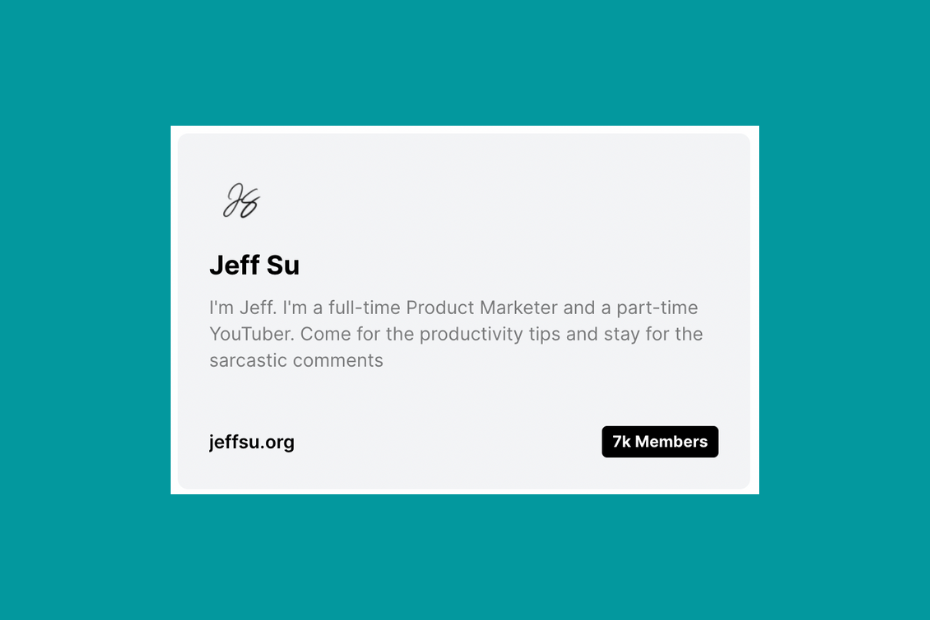 The source of subscribers is rather his Youtube channel than the organic traffic of his blog. He receives under 1000 monthly organic traffic, but based on the paywalling model this is not surprising.
4. Kevin Indig - Growth Memo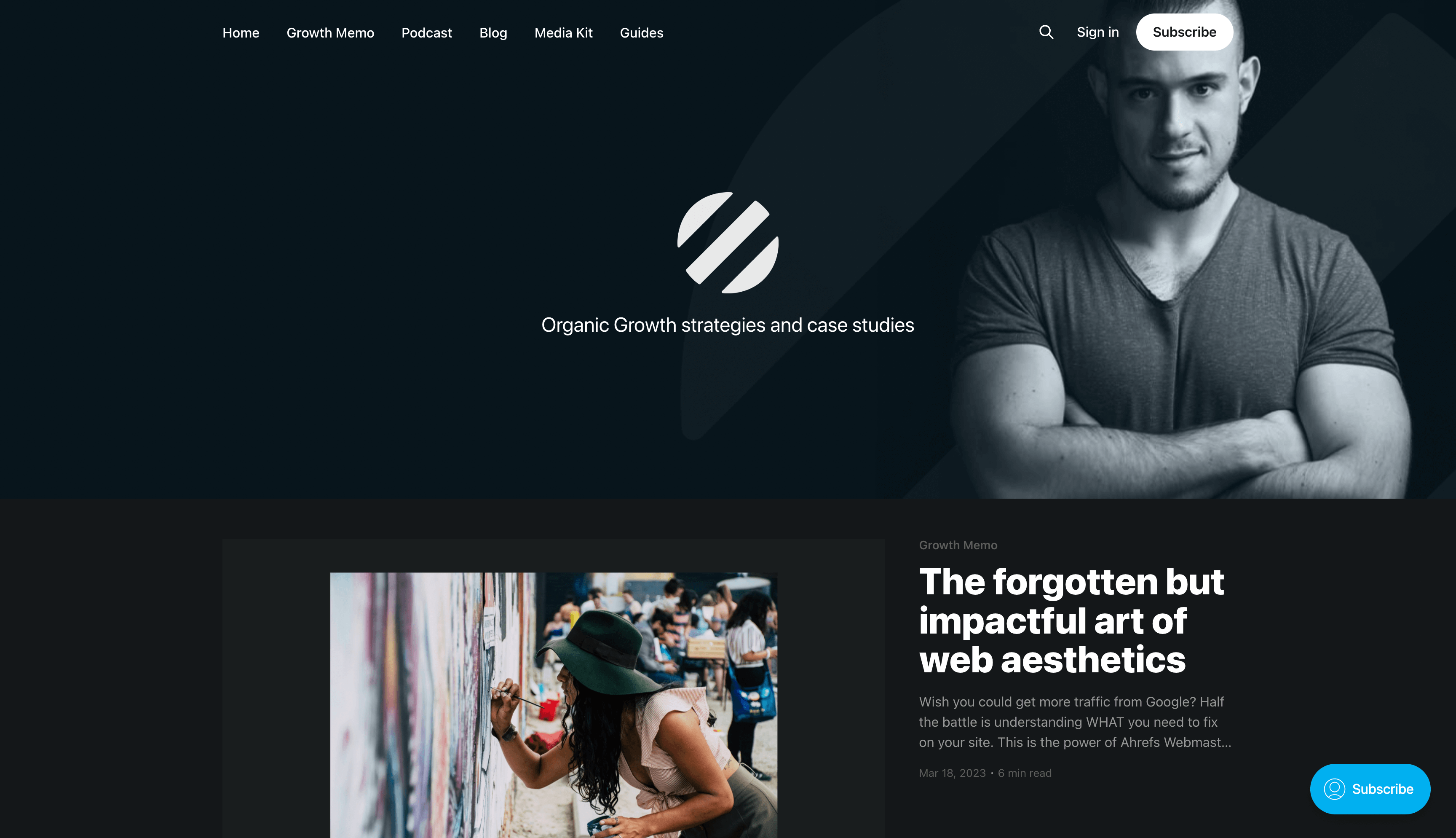 Kevin Indig is the former VP of SEO & Content at G2 and Director of SEO at Shopify. He is running the most popular Ghost publication about SEO with 9k subscribers at the point of writing this.
His newsletter, The Groth Memo is like The Strachery of SEO. Kevin is putting SEO strategies into a business context, he is using big-picture thinking and connecting the not-so-obvious dots.
He writes about online trends, AI, or SEO for aggregators vs. integrators.
His blog is using a simple Casper theme and it looks like he is either an artist or he is using AI-generated cover images as his hero images.
Kevin is not chasing keywords with his blog since he is writing about unknown SEO trends and ideas. Though it is interesting to look at his domain authority, and the number of links his site attracted.
That can be accredited to his long tenure as a guest columnist at multiple SEO publications, which may partially answer how he feeds the top of the funnel of his newsletter.

5. Ali Abdal - Sunday Snippets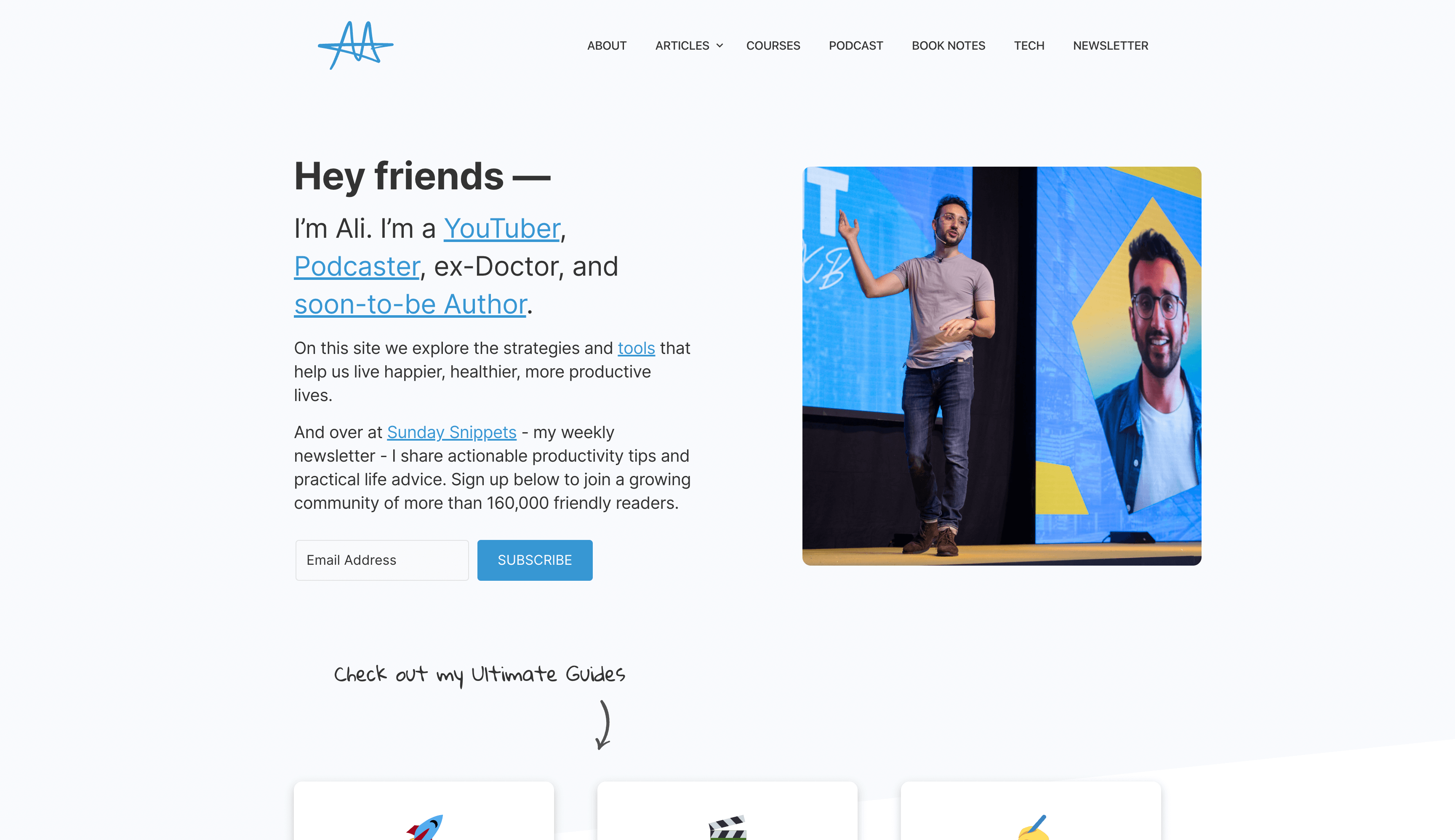 Ali Abdal is one of the most popular YouTubers in the productivity space with more than 4 million subscribers. He mentioned several times in his videos that he is using Ghost for blogging, and he does that regularly.
His Ghost website is bringing in 34K monthly organic traffic but around half of that is coming to Ali's name.
He has a nice amount of published articles, but the majority of those are the issues of his newsletter, the Sunday Snippets, which is a great newsletter, but not focused on SEO when it comes to topic selection.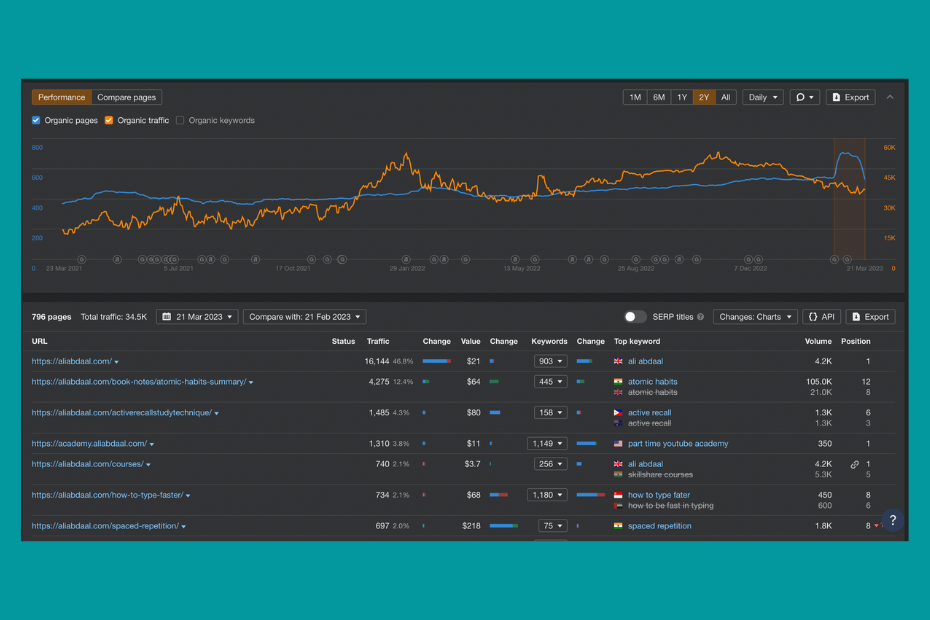 6. The Airtable Blog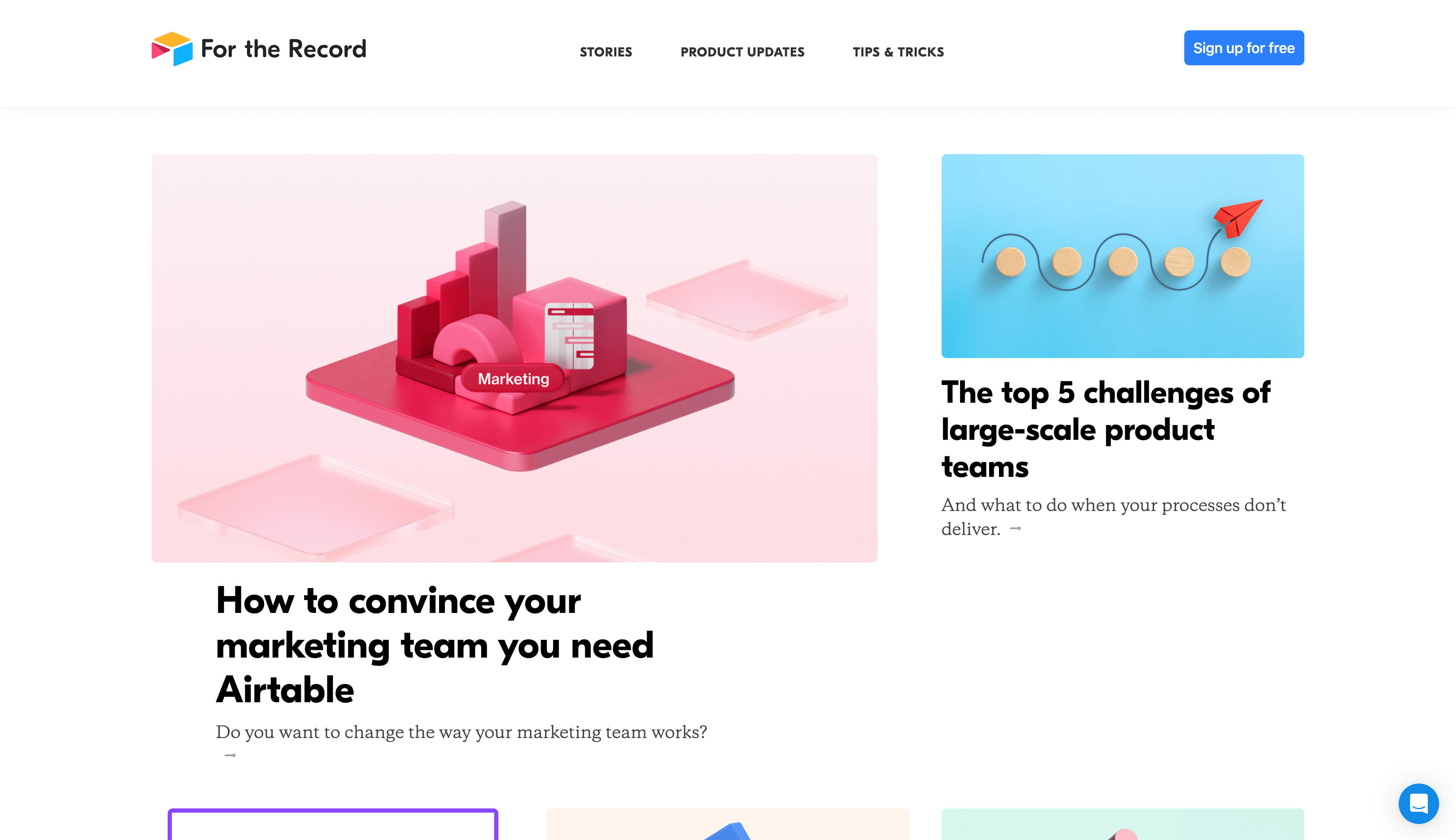 The sweet-spot tool for productivity nerds, Airtable has chosen Ghost as their publishing engine as well.
They have clear design and the content is at the forefront of the structure. No distractions, plugins. Just a simple progress bar and a gentle sign up popup.
They are attracting some traffic from SEO, but probably that's not a huge part of their acquisition strategy.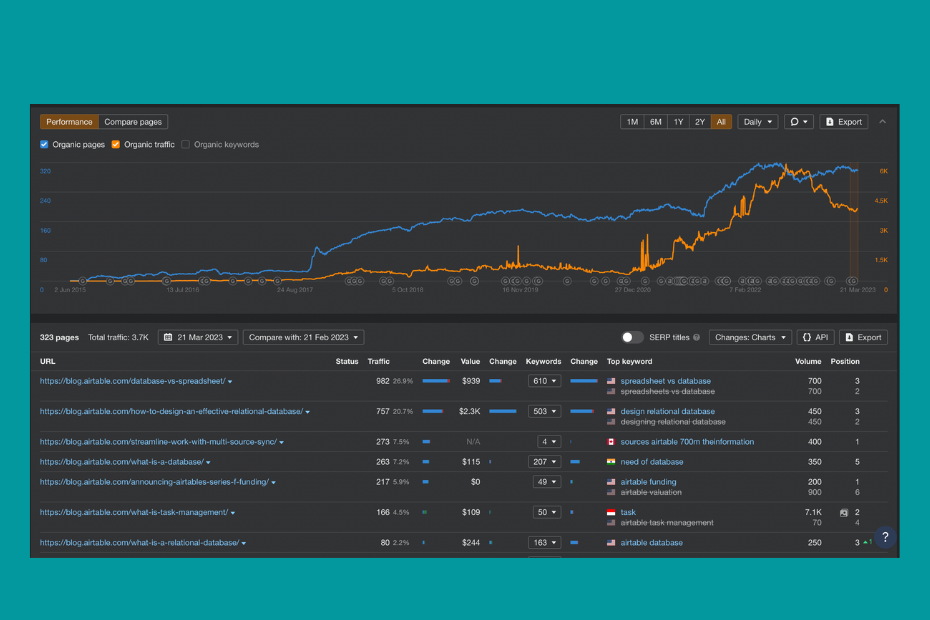 7. The Emojipedia Blog
The Emojipedia blog is running on Ghost and they are using the default Casper theme with some simple hero images. They are sharing updates about their big emoji collection and writing about trends in the world of emojis.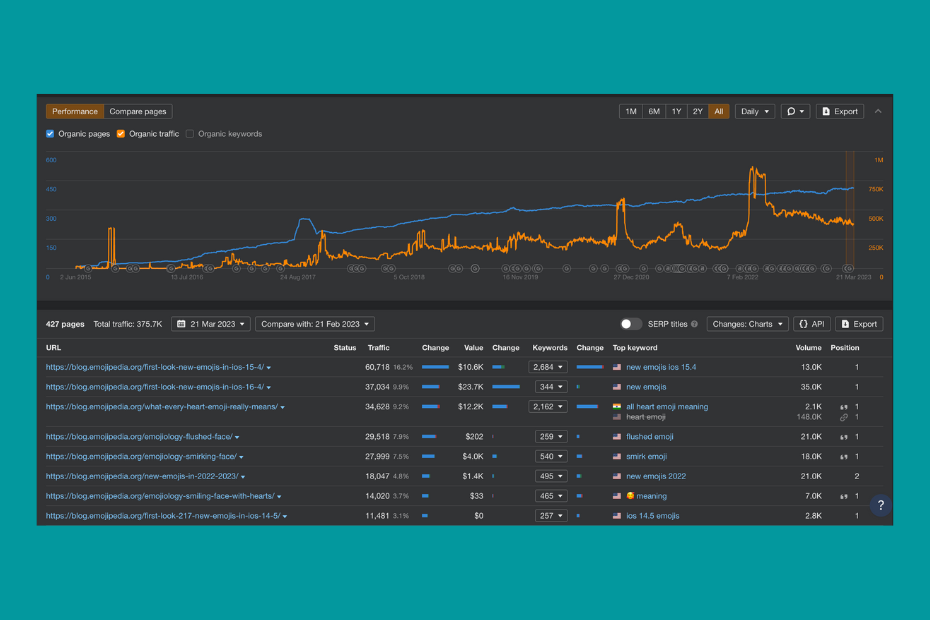 The Emojipedia blog has one of the strongest SEO games we have so far covered. They are attracting a staggering 375K monthly traffic with only 400 pages.
Though it is not that the blog receives branded traffic for the emojipedia brand keyword, they are running after the long-tail emojis and a high number of articles are bringing in some readers.
Also, the emojipedia blog is in sync with the blog website.
There are keywords where the blog ranks as a featured snippet, and the website ranks in the first position. Interesting strategy to take total control of the Emoji SEO landscape with a Ghost blog.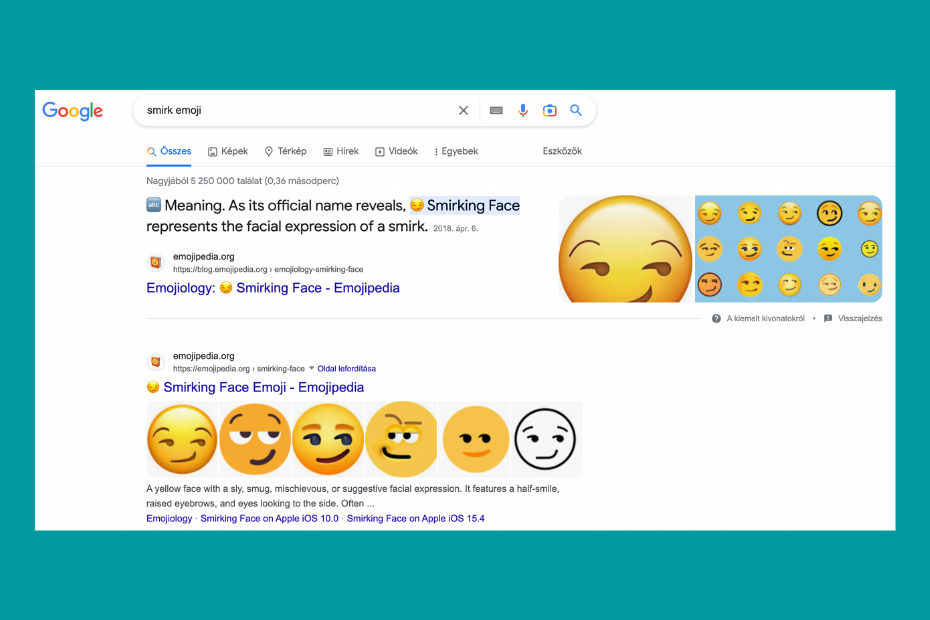 8. Duolingo Blog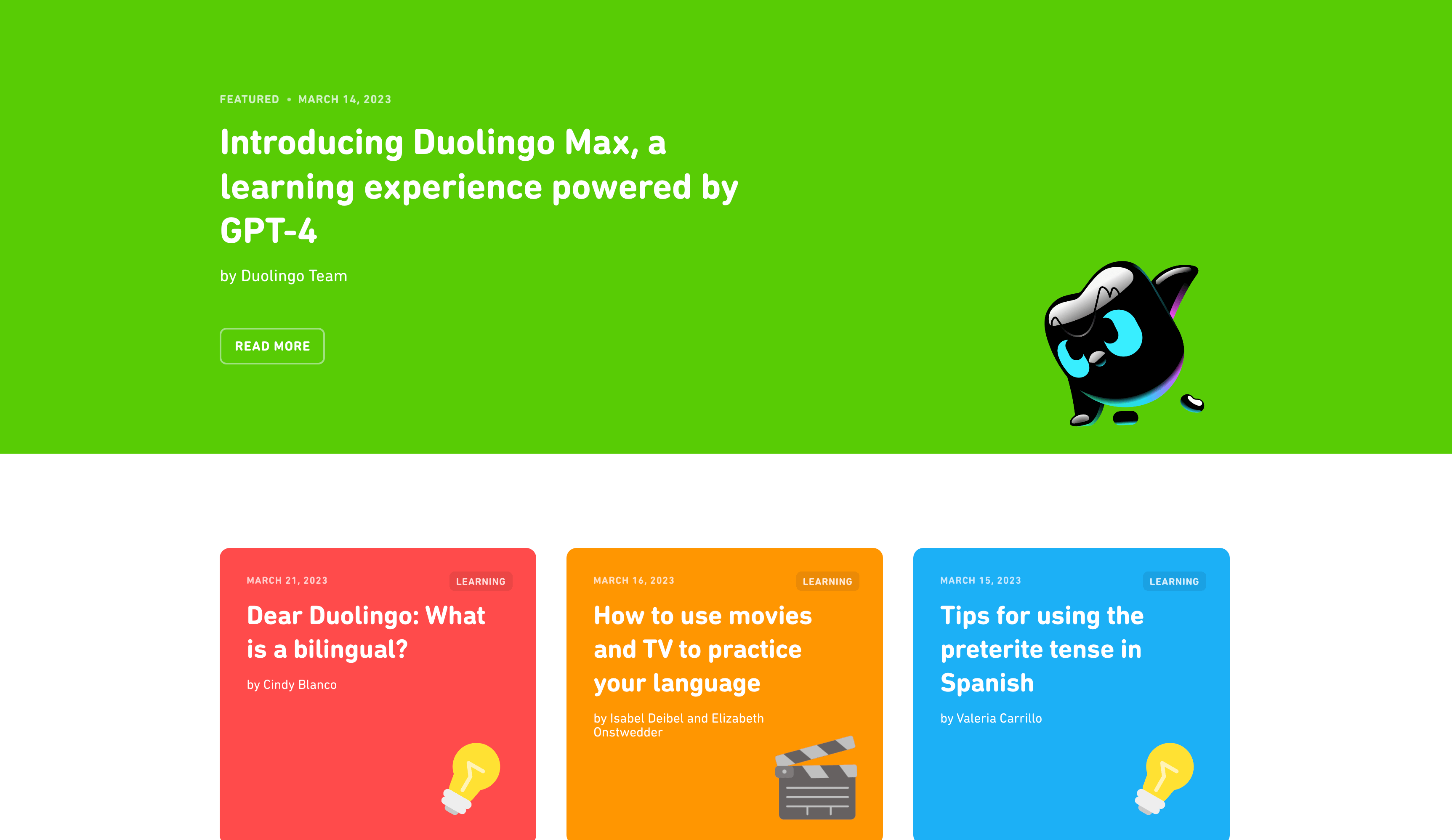 As a power user of the app myself, I was quit surprised when I found out that the Duilongo Blog is running on Ghost also.
They have a minimal design following the Duolingo color palette. The color of their cards are changing based on the category the given article is assigned to, which is such a cool feature.
Flexing with the green bird. #Duolingo365 pic.twitter.com/8ZwtXY8cZC

— Norbert Hires 🖋️ (@NorbertHires) December 7, 2022
SEO traffic through their blog looks like a consistent traffic source for Duolingo. They are bringing in 77K organic visits with ~700 articles.
That's nice to have but if we compare it to the 6.8 million SEO visits generated by the 200K+ pages of Duolingo, then the blog is rather nice to have than the most important asset of Duolingo.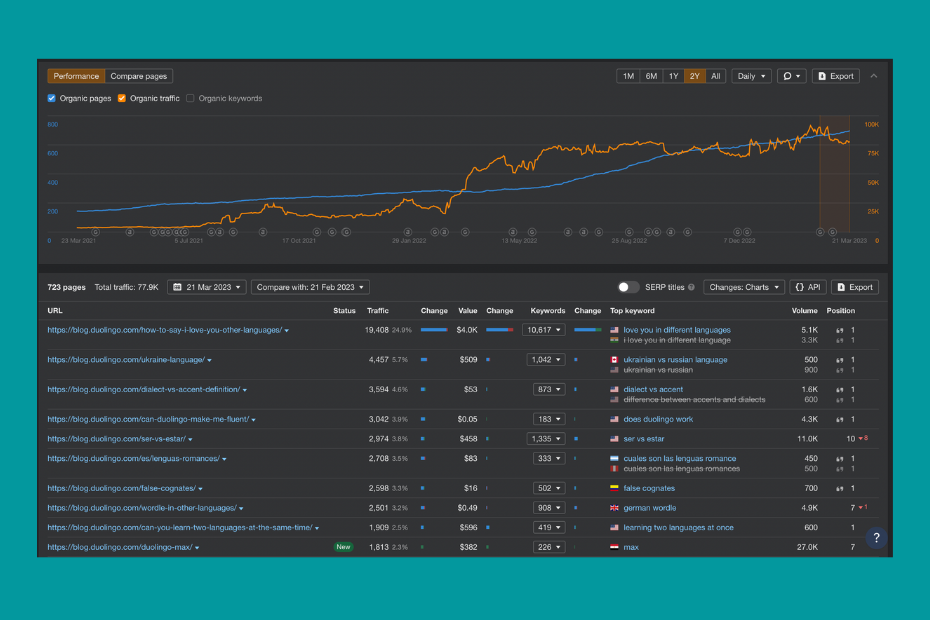 9. The Browser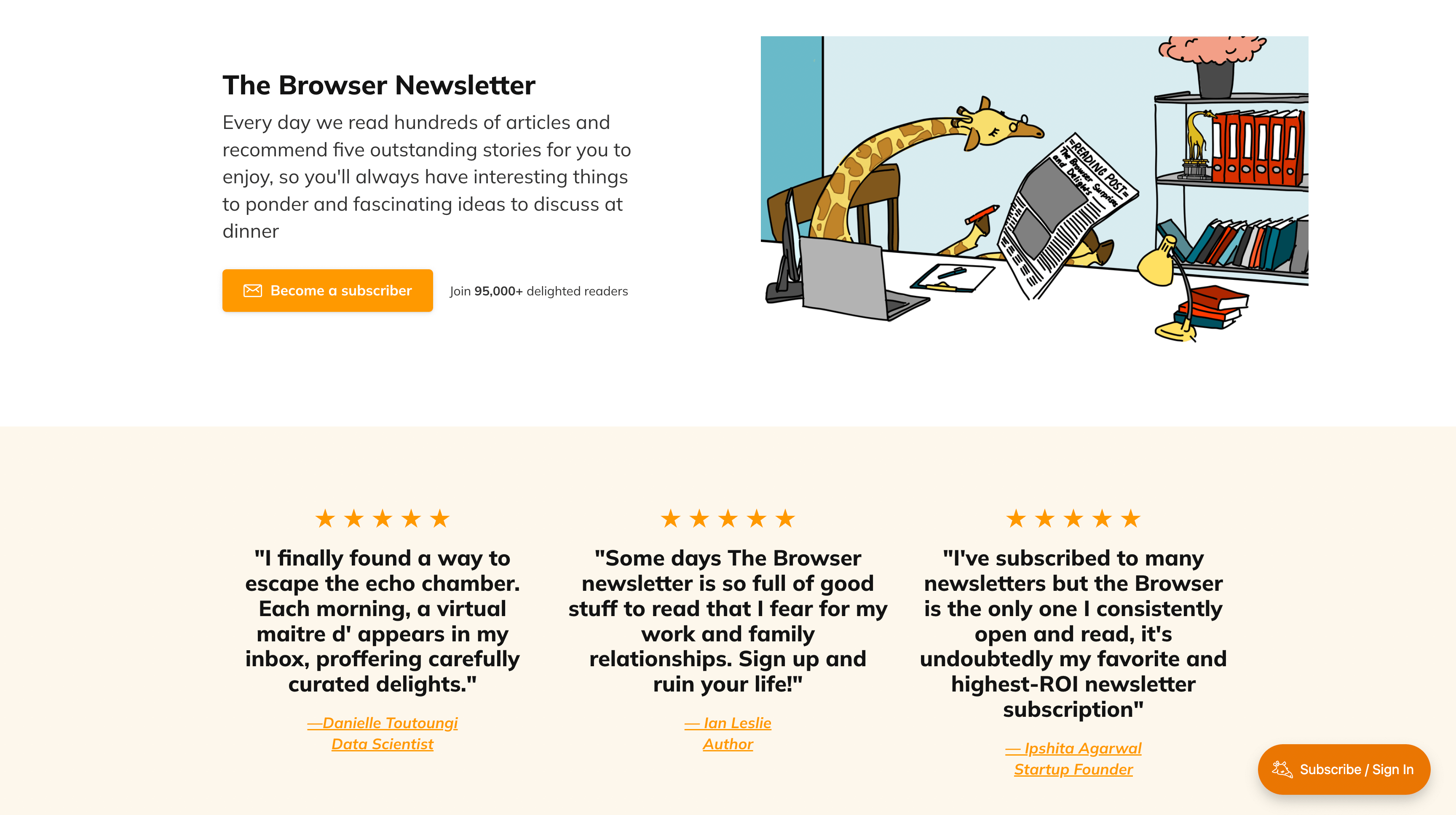 The Browser is an article/news curation newsletter. It was founded by Robert Cottrell in 2009 and since then it is the heaven of curated long-form content.
Currently, it has 95K subscribers. They offer a free tier besides their paid plans. Based on an interview from 2019, The Browser has at least 10k paying subscribers within this bucket.
A good newsletter with a simple design running on Ghost.
10. Cloudflare Blog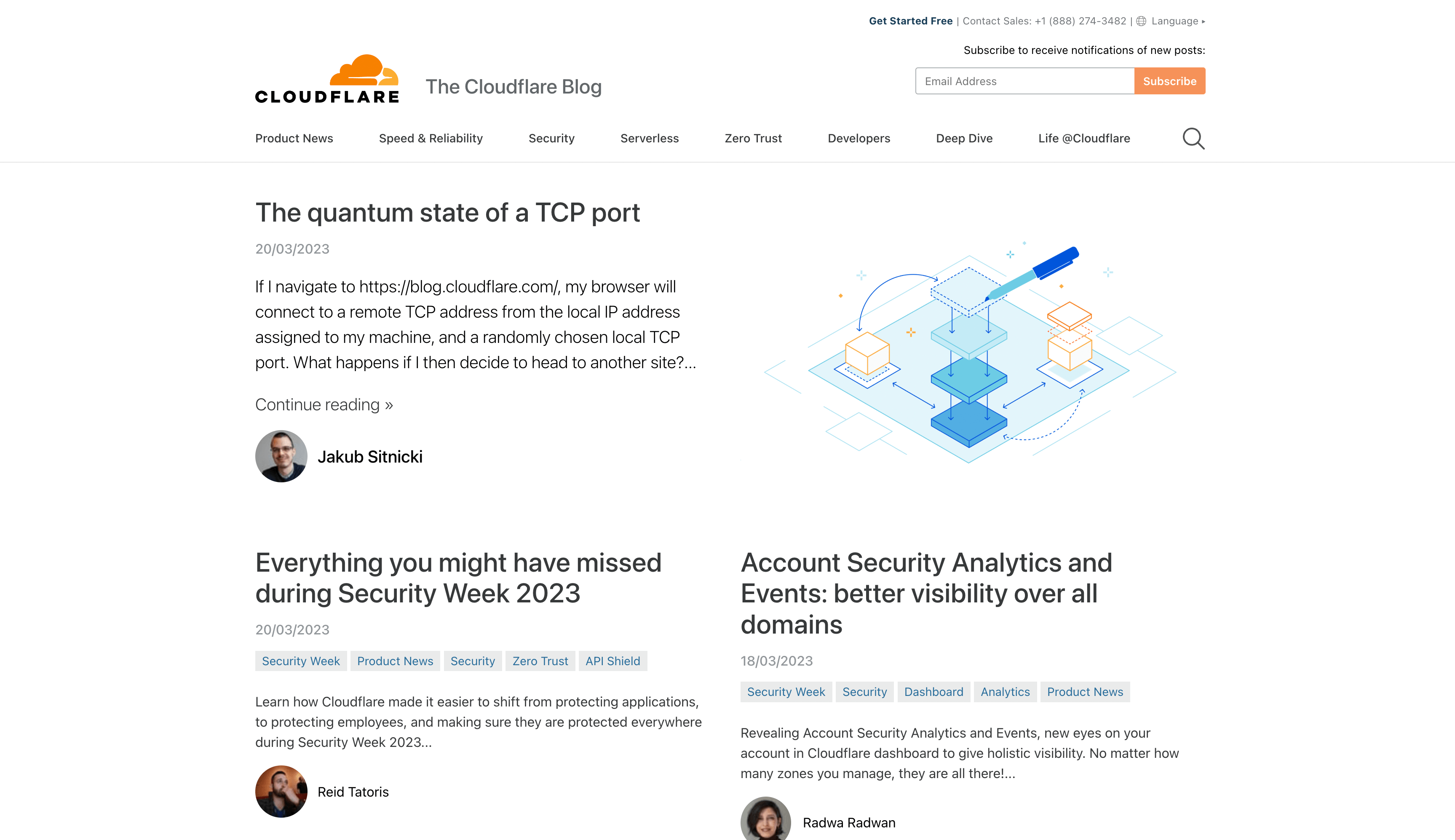 Cloudflare is the glue keeping the internet in one piece. I don't pretend I even comprehend 90% of the topics they are writing about on their blog, but sure I found some troubleshooting tips there when I had problems with my site.
They are driving 200K+ organic traffic monthly with technical terms and branded support articles.
If you have Cloudflare, you search for Cloudflare.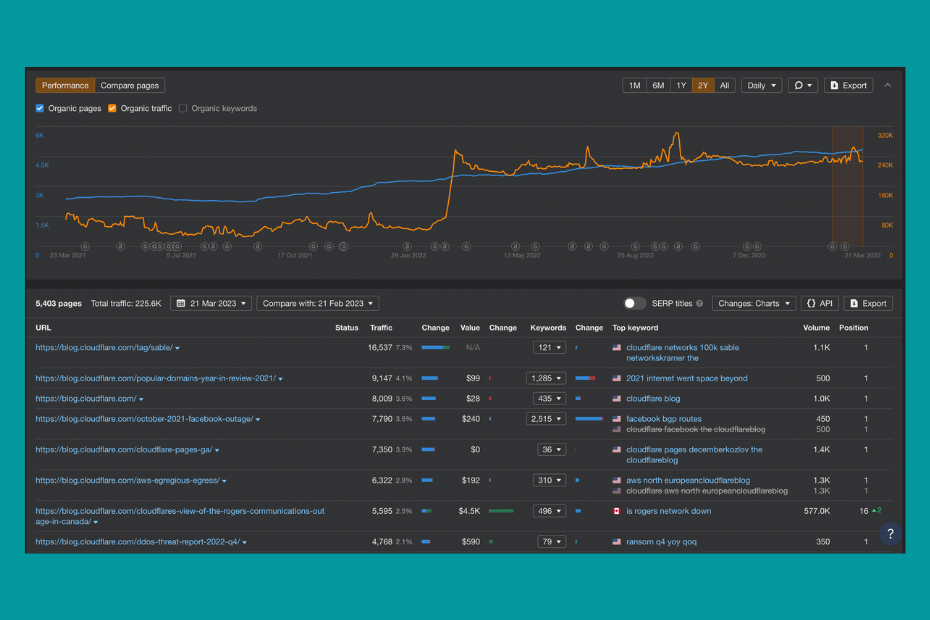 The slightly strange caveat (based on one line of code I found on their page) is that it looks like they are running on ghost v3 when the most recent version is well into v5.
<meta name="generator" content="Ghost 3.5">
But anyway. Probab;y they don't have problems with downtime because of this.
11. Creator Science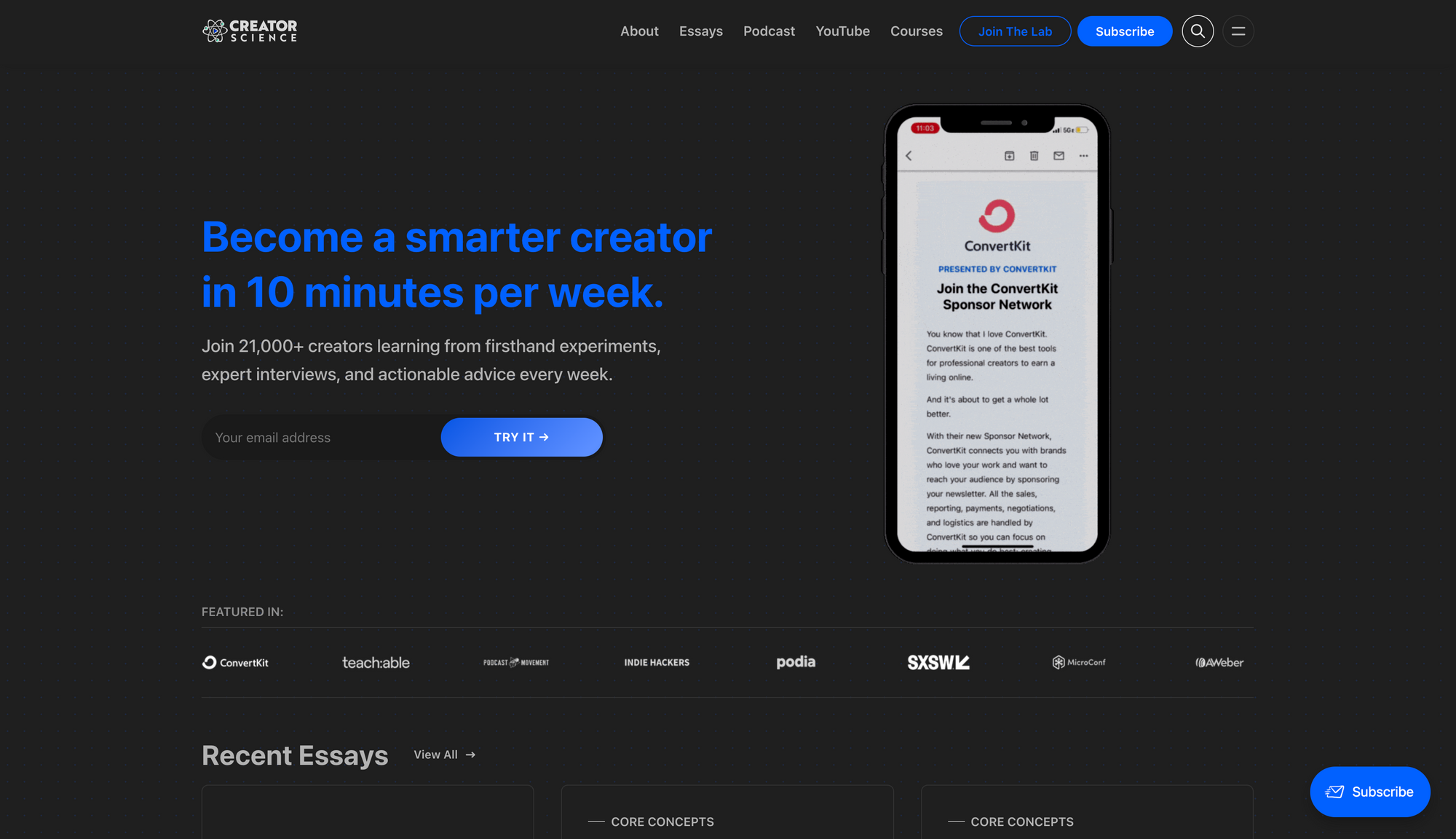 I am a big fan of Jay Clouse's work. His podcast and newsletter are at a totally different level when it comes to testing and analyzing what works for content creators.
The Creator Science website is running on Ghost, but Jay is using Convertkit to send his newsletters.
If you have welcome e-mail sequences or you are doubling down on e-mail marketing and you don't want to only send articles published on your blog, but automated messages as well, then using another provider for e-mail is complementing Ghost.
12. Maker Stations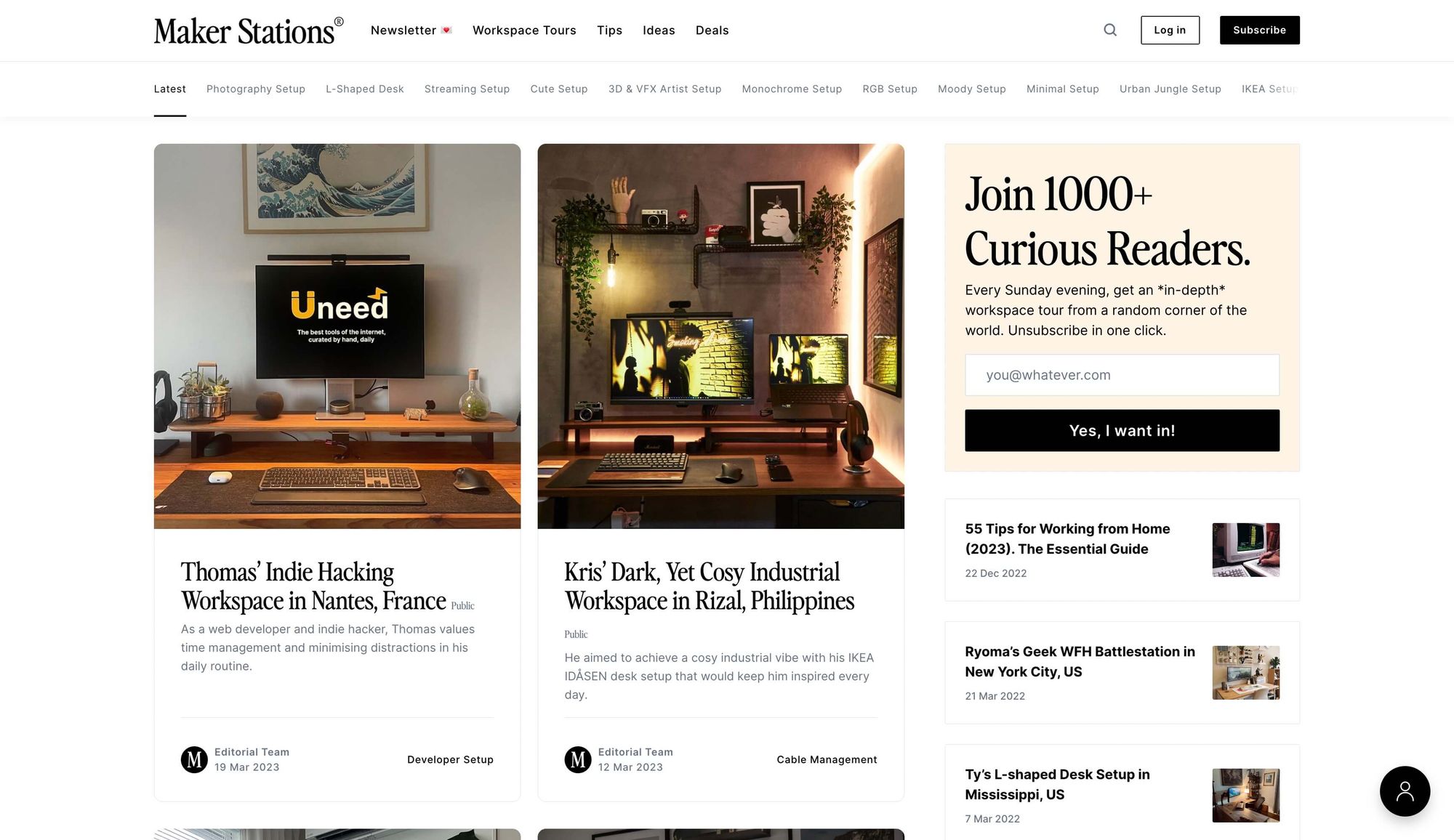 There is something relaxing about looking at aesthetically organized desk setups. Maker Stations is interviewing the owner of beautiful desks while presenting their gears, describing their choices, and sharing some product info.
Images are the backbone of these articles and they are presented neatly with Ghost on mobile and desktop as well.
They are also a great example of how to crush it with SEO as a smaller publication. They are attracting 20k monthly organic traffic with only 159 pages according to Ahrefs.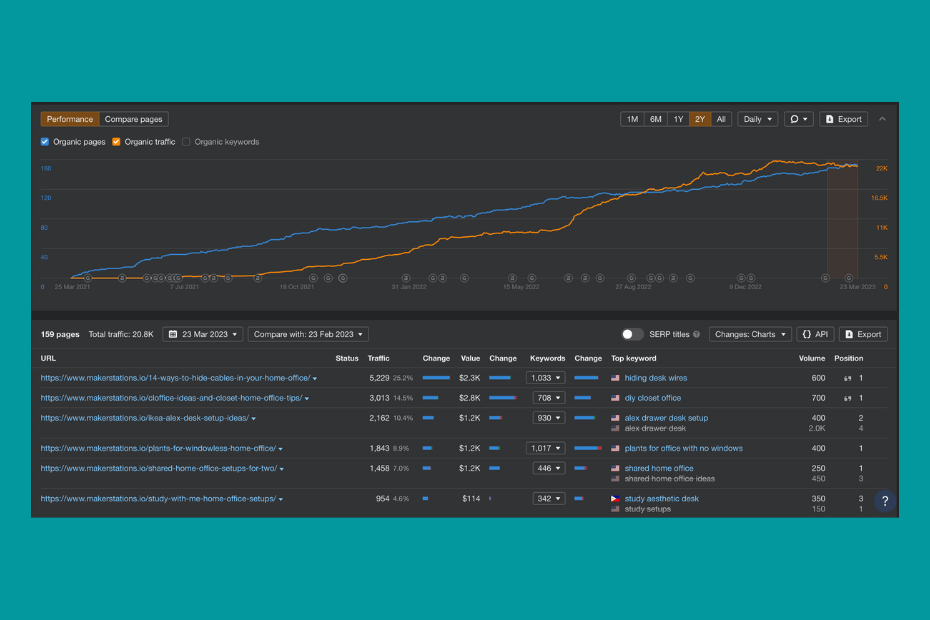 Learnings of Looking at Ghost Websites
It is always fun to check & analyze websites with great content. With the blogs and newsletter running on Ghost writing this article was quite a fun experience.
I got out some ideas on how to present images better, and what 3rd party plugins to use to enhance the Ghost experience. It also provided a sneak peek at what can be achieved with a simple Ghost blog.
I hope you get something worthwhile out of this list as well.
If want to read more about the Ghost platform, I have written about the experience in general and Ghost's SEO capabilities.
If you are into browsing more Ghost sites, I suggest the following resources:
To recap:
Ghost websites & ghost blog examples
Kickstarter Blog
Product Marketing Alliance
Jeff Su
Kevin Indig
Ali Abdal
The Airtable blog
Emojipedia Blog
Duolingo Blog
The Browser
Cloudflare Blog
Creator Science
The Makers Station