Why LinkedIn is not getting the SEO it deserves?
One of the world's most famous professional networking and career site, LinkedIn is driving 220+ million clicks a month from organic Google searches. But they leave SEO money on the table.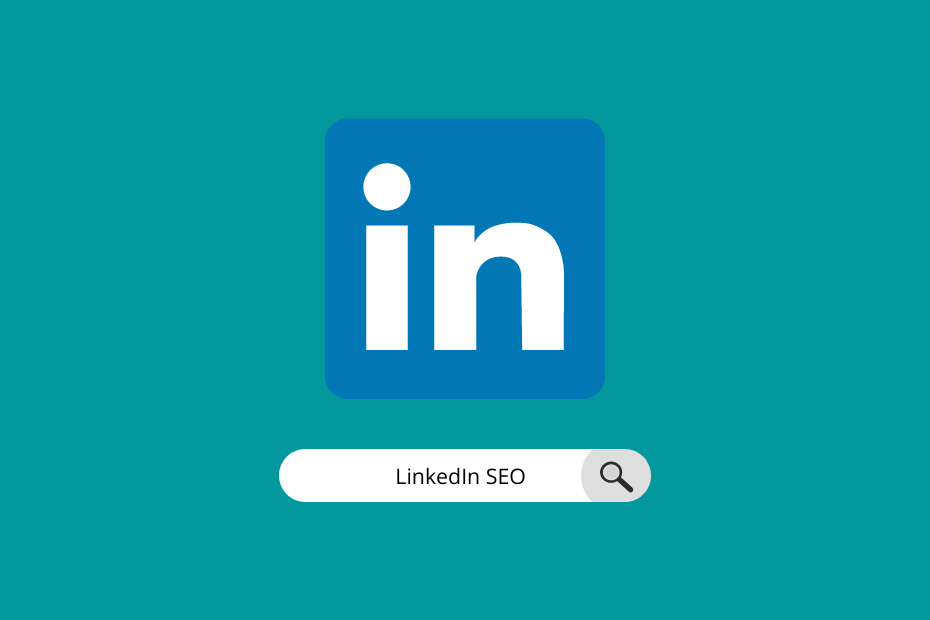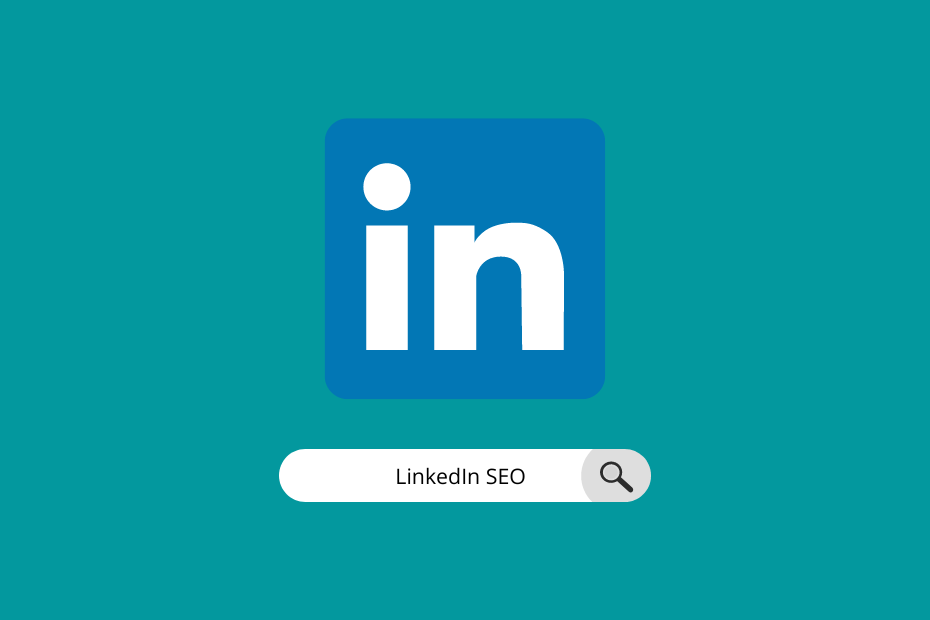 As part of my SEO Patterns series, I am analyzing some of the biggest and best-performing websites on the internet to gain insights from their setup and share not straightforward best practices for doing SEO at scale.
I planned to deep-dive into the world of job boards and marketplaces in this article, but something unexpected happened. I picked LinkedIn, Indeed, and Glassdoor for the analyses as they are the biggest players globally.
But when I started to analyze the best practices implemented by Microsoft-owned LinkedIn, I realized there are more opportunities they are leaving on the table than genius solutions I could outline for you.
So I dedicate this deep dive to LinkedIn SEO alone.
I will touch on the unexpectedly well-performing verticals of the site you could exploit as a user of the platform, and also share my five cents on what I think they could do better.
☝️
This is not a guide about how to do search engine optimization for your personal or company profiles, but my highly opinionated take on what I think LinkedIn could do as a platform to drive more organic search traffic to bridge the gap between the content they have and the searches in Google.
Disclaimer: Before starting I wanted to point out the limits of my analyses. I was working with simple processes to analyze a site that has the majority of its content behind a login. Crawling a site at this scale was not an option, so I used the traffic estimates of 3rd party tools like Ahrefs and SEMRush, and reverse-engineered my way to pages. I know these numbers are far from reality and suggest you take this into consideration when reading this piece.
How does LinkedIn earn money?
Microsoft acquired LinkedIn for $26.2 billion in 2016.
While we don't have the detailed documentation of a separate publicly traded company to gain insights, digging deep into the Annual Report and the 2022 Q3 Quarterly Earning Report of Microsoft we can learn a lot about LinkedIn's present and future directions.
While I experienced the recent explosion of LinkedIn as a professional social network / alternative marketing channel, I had no idea how LinkedIn was doing as a business.
It turned out based on the 22 Q3 numbers that they can not complain:
"As part of Revenue in Productivity and Business Processes LinkedIn revenue increased 34%"
In the Q3 Report as the current climate indicates Microsoft is focusing on synergies within their platforms and this has interesting implications for their professional networking site as well.
Or as the CEO of Microsoft stated:
"Across the tech stack, we are expanding our opportunity and taking share as we help customers differentiate, build resilience, and do more with less." - Satya Nadella
But where does this growth comes from and what is the next for LinkedIn?
According to the Annual Report:
LinkedIn now has more than 850 million members,
and their Sales, Talent, Marketing, and Premium Subscriptions businesses have all surpassed $1 billion in annual revenue over the past 12 months.
They earn money through the following channels:
Insights: "Talent Solutions provide insights for workforce planning and tools to hire, nurture, and develop talent."
LinkedIn Learning: "Talent Solutions also includes Learning Solutions, which help businesses close critical skills gaps in times where companies are having to do more with existing talent."
Ads: "Marketing Solutions help companies reach, engage, and convert their audiences at scale."
"Premium Subscriptions enables professionals to manage their professional identity, grow their network, and connect with talent through additional services like premium search."
"Sales Solutions help companies strengthen customer relationships, empower teams with digital selling tools, and acquire new opportunities."
They recently joined the podcast game with LinkedIn Podcast Network. Their goal with podcasts is in line with the quote about synergies earlier: to get their foot in a booming market by utilizing their existing user base.
They are solving the cold start problem in the most logical way.
The Importance of SEO for LinkedIn
At the point of writing this article, LinkedIn was the 6th biggest social network in the US, and the 18th biggest website in the world according to Similarweb.
More than 850 million members imply a strong network effect. As expected LinkedIn has the majority of its visitors coming directly to its platform, but search is still substantial with its ~22% contribution to total traffic.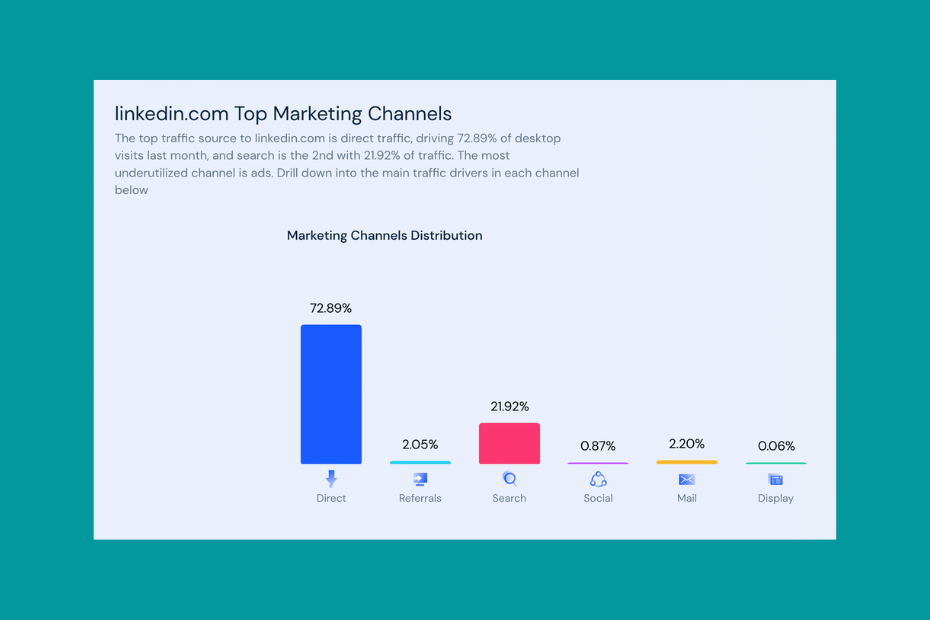 You could say that people are just typing "linkedin" into Google and that's why we see search climbing to the 2nd most important traffic channel of LinkedIn.
But by picking a more precise tool to measure search-specific data (SEMRush) of LinkedIn, we see that though there are substantial brand searches (12.2M) every month, traffic from non-branded keywords (47.9M) is 4x of its branded counterpart.
Having a strong brand is a great asset in SEO.
In times when competition increases, algorithms hit you or seasonality affects you, you can rely on branded search traffic.
Maybe some of the latter are playing out for LinkedIn because they have had quite a substantial decrease in non-branded queries in the past globally according to SEMRush.
We can get a small picture of the importance of non-branded keywords based on the distribution of the number of keywords in the above chart.
But be aware.
The increasing line of branded traffic trend is not about steadily increasing searches for "linkedin", but about decreasing traffic coming to the "microsoft" or "bill gates" type of keywords.
Site Structure and page types
You can not really optimize for branded keywords too much in the short term. On the other hand, non-branded keywords are a goldmine when you are working with the data and number of pages LinkedIn possesses.
But for what kind of non-branded keywords are LinkedIn ranking with what kind of pages today?
To get an overview of the best-performing page types I used Ahrefs.
I could trim it down to the main templates with some limitations:
Local subdomains: The traffic and number of (ranking) pages for all LinkedIn pages are valid globally, but with the subfolder filters I lost the country-specific subdomain versions (all pages contain es.linkedin.com,  linkedin.com/company/ does not).
Discarded pages: Support pages, sales pages, and wiki pages are important, but they were not the focus of my analyses so I didn't include them in my table, so numbers don't add up.
But here are the major subfolder/page types of LinkedIn
| Folder | Traffic | Number of pages |
| --- | --- | --- |
| All pages | 223M | 42.7M |
| linkedin.com/in/ | 27.3M | 10.5M |
| linkedin.com/company/ | 23.1M | 1.9M |
| linkedin.com/pulse/ | 7.4M | 1.8M |
| linkedin.com/jobs/ | 5.9M | 600k |
| linkedin.com/pub/dir/ | 2.1M | 852K |
| linkedin.com/posts/ | 2.0M | 1.1M |
| linkedin.com/learning/ | 1.7M | 108K |
| linkedin.com/help/ | 1.5M | 22K |
| linkedin.com/business/ (blogs) | 409K | 3.5K |
| linkedin.com/jobs/view/ | 378k | 623k |
| linkedin.com/school/ | 214K | 38K |
| linkedin.com/news/ | 61K | 10k |
Let's break the templates down starting with pages driving the most traffic to LinkedIn.
Profiles
Sitting in the /in/ folder, user profile pages are the biggest asset in terms of size (10.5M pages) and organic traffic (27.3M).
These are happening not just because of scale, but rather because of the popularity of individuals over companies and narrow search terms.
If you look at the top keywords in the US they are all names for which LinkedIn is ranking with a user profile.
It looks like LinkedIn let Google index every profile page.
Also, they let index lists of names as well under the /pub/dir/ directory like https://www.linkedin.com/pub/dir/John/Doe.
From a search user point of you, this makes sense.
Sometimes a user profile, sometimes a list of users is better for the search intent behind a name.
For "Bill Gates" only one profile is satisfying my search intent while for "John Doe" it depends that which John I am looking for from the 14k John Doe in the world.
How to do it better? Indexing every user profile, and name listing look like an incredible waste of resources and a source of duplication. I wouldn't let Google index every user profile. I would set up a rule which indicates the popularity of profiles and determine their indexing status based on that. If a profile received less than 100 views on LinkedIn I would add a no-index tag to it. Leaving the list of names indexable LinkedIn could still rank for the term while cutting a high amount of pages.
Companies and Schools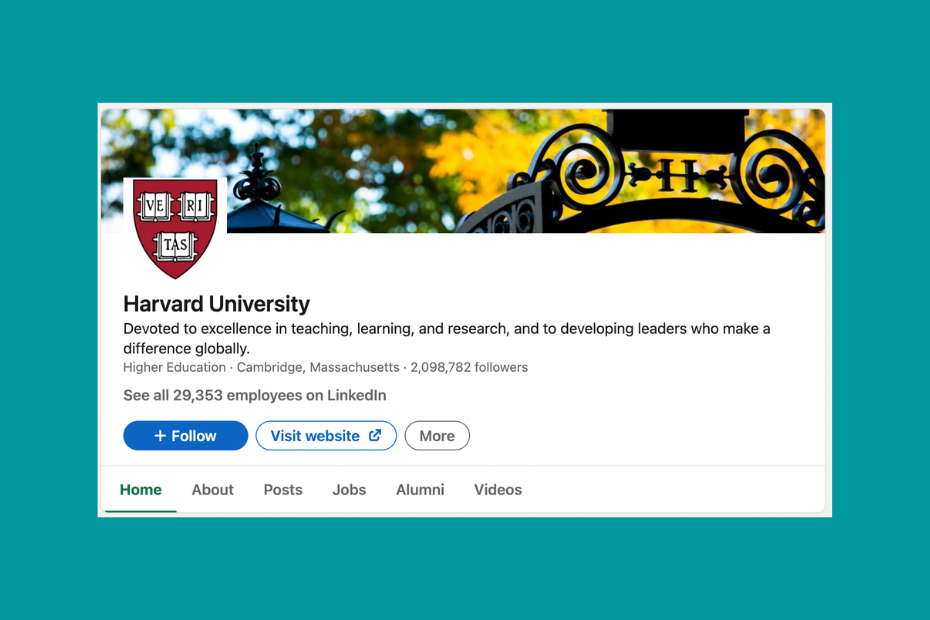 From a page/click perspective company profiles are the best-performing assets of Linkedin.
Company profiles generate almost the same amount of traffic as personal profiles while there are 5x more indexed personal profiles than company ones.
Schools are using the same templates with different prefixes than companies.
LinkedIn uses descriptive URLs for both cases:
Though there are only 38K ranking school URLs which is really small compared to the 1.9M company pages.
As expected school URLs drive much less traffic but having them is a great move from LinkedIn. They can tap into a large pool of keywords that can immediately or in the long term be valuable for them.
It can be immediately relevant to drive revenue through listing uni jobs, and they can grab students at the awareness stage when they search for uni and later leverage that connection when they get on the job market and potentially upsell for LinkedIn Premium.
How to do it better?
Start with demand and look at what are people searching for and how is LinkedIn ranking for those terms with its current setup.
If I pick the real estate marketplace Zillow and filter for the keyword for which LinkedIn is already ranking, the most popular ones are the following:
| Keyword | Search Volume | Google Rank for Linkedin |
| --- | --- | --- |
| zillow careers | 6600 | 6 |
| zillow jobs | 2900 | 3 |
| zillow employees | 320 | 17 |
For someone else's expanded brand keyword LinkedIn will likely never rank in the first position if the brand has a website because the brand website will take the lead.
But there are much bigger search volumes for company and school long tail keywords than Linkedin is capturing.
We see that only by looking at the rankings: LinkedIn could do better than ranking on the second page for "zillow employees" when they exactly have that page under another name, called "people".
For every company profile, LinkedIn has different tabs with separate indexable URLs.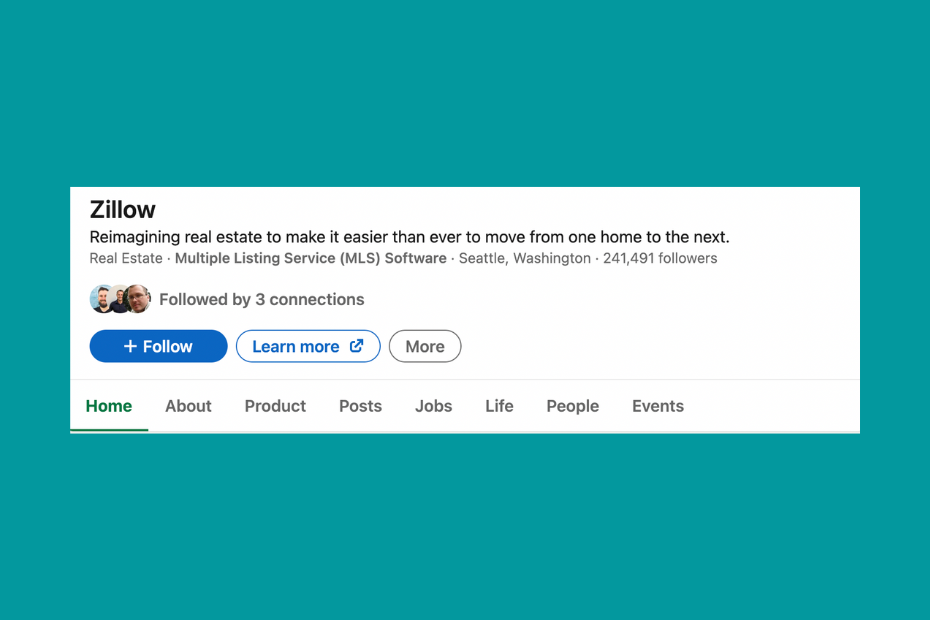 But the page title and meta description of these tabs can be optimized to match the exact match long tail keywords people are actually searching for.
Linkedin has Jobs and People tabs which are satisfying the intent so it makes sense for Google to rank these pages.
Though I would change or expand the page title of the tabs to rank for the "most searched" variation of the intent.
Users are searching for "careers" often even more than for "jobs". Why not include both?
When I go to the "People" tab of a company I want to stalk the employees of the company. They are people, humans, but I have employees in mind when searching. Why not optimize for that?
I would also get rid of the : separator to make the title more enticing and increase click trough rate this way.
Optimize meta description
The sad reality is that Linkedin does not have a meta-description template for companies.
The snippet in search is constructed by Google based on the top section of company profiles.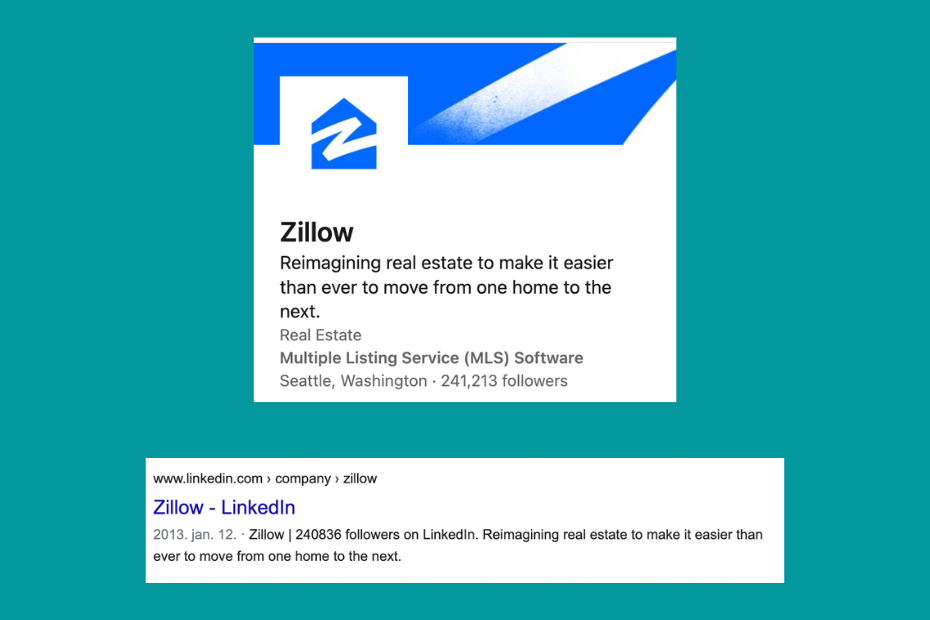 We have only an empty snippet in the head:
<meta name="description" content="">
Adding dynamically changing templates based on tab names while including the target keywords is a no-brainer way to increase traffic to these pages at scale.
Linkedin could even use the content they have on the page.
Instead of
<meta name="description" content="">
they could have
<meta name="description" content="Zillow has 120 job openings - find the one for you. Recently posted Zillow Jobs on LinkedIn.">
Drag and drop the same logic for the rest of the tabs, and multiply it by 1.9 million pages.
This could be a great win for LinkedIn because the currently displayed descriptions are not really relevant.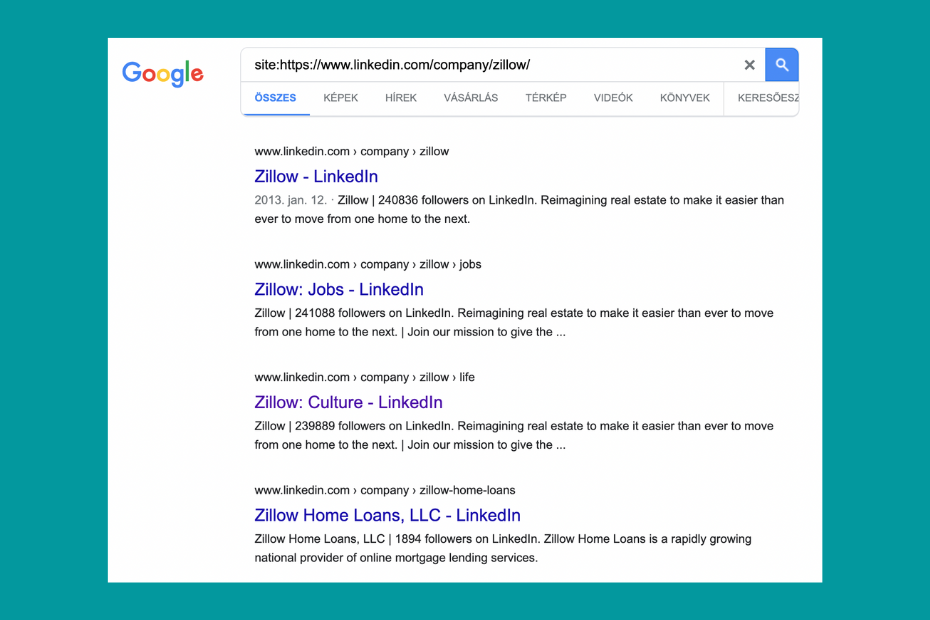 LinkedIn Pulse
In 2013 LinkedIn acquired a leading news reader and mobile content distribution platform called Pulse.
LinkedIn did a good deal from an SEO perspective because the integrated publishing leg of LinkedIn is much more promising than the rest of the functionalities of LinkedIn.
The On-Page SEO of Pulse articles is solid.
You can do everything important you need.
readable URL of posts,
good page title,
headlines,
link to the author's profile,
and other articles to help E.A.T,
Though this was not rocket science even in 2013.
1.8M Pulse articles are driving 7.4M clicks a month according to Ahrefs.
The best-performing article is How to Access the WPC2021 Live Dashboard?
Though overall other publishing platforms like Medium are driving more traffic (26M) than Pulse (7.4M), the top publications of Pulse look like can drive even more traffic than publication-focused sites.
I didn't think of this earlier but after digging into the data LinkedIn Pulse looks like a fun place to experiment with publishing SEO-optimised content.
Though it comes with the same tradeoffs as other "rented" platforms like Medium: eventually you don't own the content.
Posts
If you publish a blog post on LinkedIn then it uses the Pulse platform, while just publishing a post stays in the /posts/ subfolder.
Google can and does index posts.
But I don't get the reason why LinkedIn wants that.
1.1 million ranking posts are driving 2 million clicks.
The most website owner would pay a serious sum for this performance, but they don't have 850 billion users who are encouraged to post at least once a day to attain "thought leader" status.
I seriously can't even comprehend how much-unindexed junk Google crawls in the posts subfolder.
What are the problems with posts?
Posts don't have a page title. Not that it isn't in the code, but users can't even declare one.
There are too many posts.
Pulse articles are ranking for evergreen keywords. Posts are ranking for... well, junk keywords.
Sure, Google is constructing a search snippet based on the user profile, hashtags, and comment number of the post.
But this is not something I would search or click for in Google.
LinkedIn users can already create SEO-friendly articles with one existing function (pulse).
Why don't they push users to use Pulse more instead of opening up an enormous, mostly irrelevant junk to search engines?
To wrap up the LinkedIn SEO Deep Dive
LinkedIn is the biggest player in professional networking and jobs place though it is not clearly winning for any type of keyword it is ranking for.
The competition landscape is broader than jobs and there are players who figured out SEO years earlier than LinkedIn.
Microsoft has to compete
for company names: Wikipedia
for trendy user profiles: Instagram, Twitter
for job listings: Indeed, Glassdoor, Google for Jobs
for thought leadership content: Medium, Substack, WordPress
It is easy to spot issues from the outside and much harder to get buy-in for SEO in companies with such a strong user base and conflicting interests within the product.
My goal with this deep-dive wasn't to roast LinkedIn but to point out that even some of the biggest websites have room for improvement.
If you would like to read more in-depth articles like this, then check out the rest of the SEO Patterns series:
To get the upcoming pieces and my related thought on growth subscribe below to receive new articles in your inbox!