How I Translated 50 SEO Articles (and what happened next)
An experiment about how I translated, hreflanged, and published 50 articles ranking in the top 3 positions for Hungarian keywords.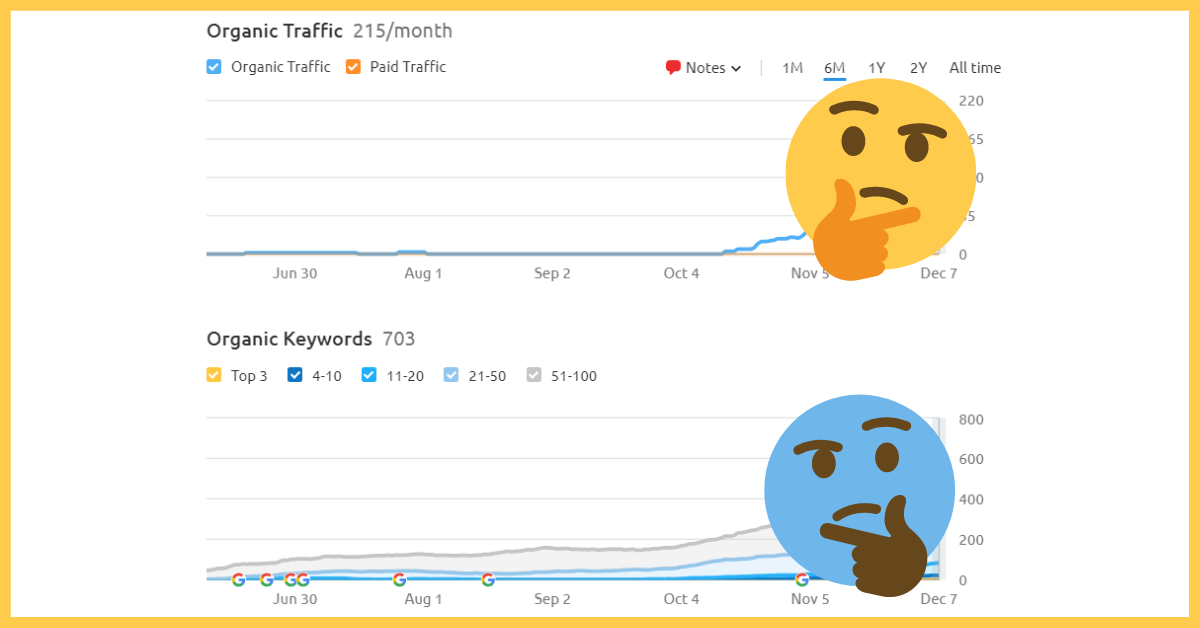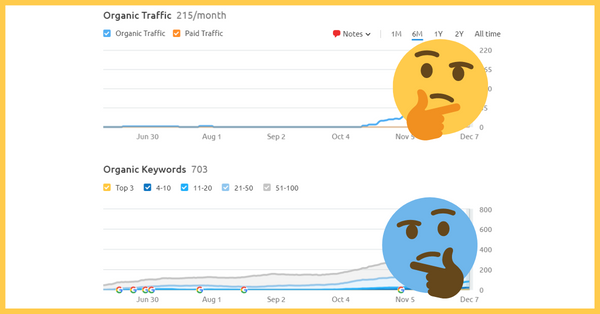 I published more than 125 articles on my Hungarian blog in the last three years. Some of them are SEO-optimised and ranking in Hungary for competitive keywords like motivation, best podcasts, personality tests, or self-help books.
With my original blog, one of my goals was to test if I can rank for competitive keywords with quality content without building links.
As it turned out: I can.
But something changed this year in February.

I published an article about mind maps back in 2019. It worked and I have been ranking in the Top 3 positions for mind maps since then. But around February the Hungarian article started to appear in other countries.
Maybe it was a bug, maybe not, but I get a glimpse of how big interest is in other countries for the type of content and keywords I am working with (from 200 average impressions a day to 25.000).
A question popped into my mind and hasn't gone away since then.
I was curious about how my articles would rank and perform in English.
As any good SEO would do I set up a test to figure this out.
The Setup
Translation with machine learning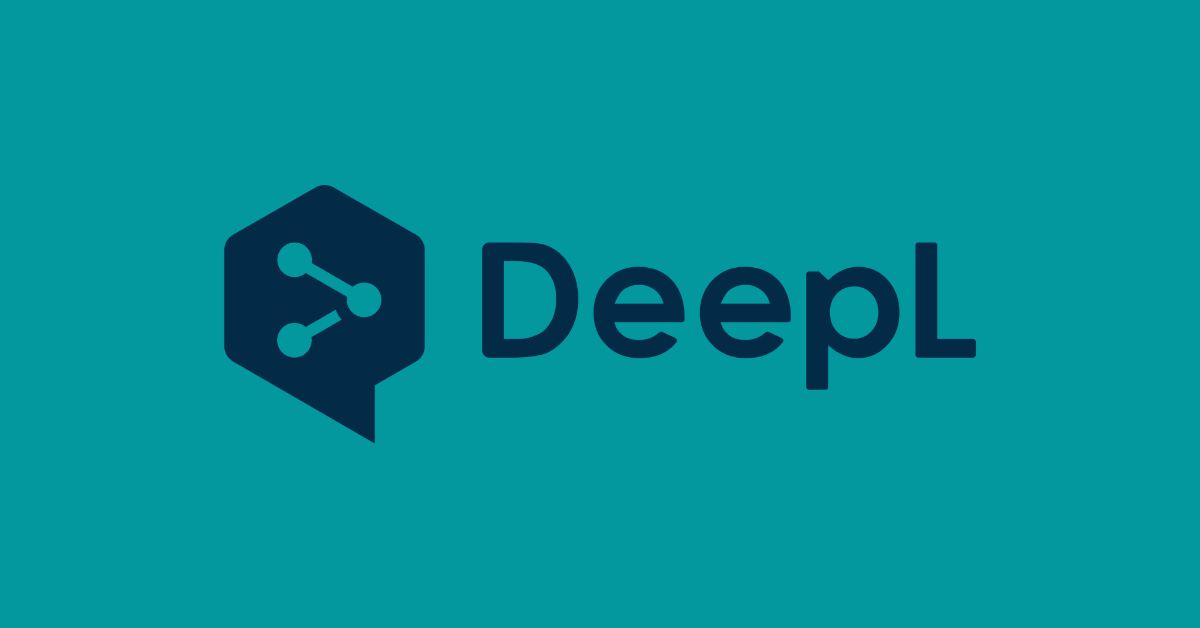 Based on Search Console data I picked my 50 best best-performing Hungarian articles and translated them to English. Of course I was too lazy to do it myself. I used DeepL, a translation software built on top of machine learning.
I started this experiment with Google Translate but I had to rephrase and edit too often. DeepL is so good that I started to get afraid of machine learning during this experiment.
Editing with Grammarly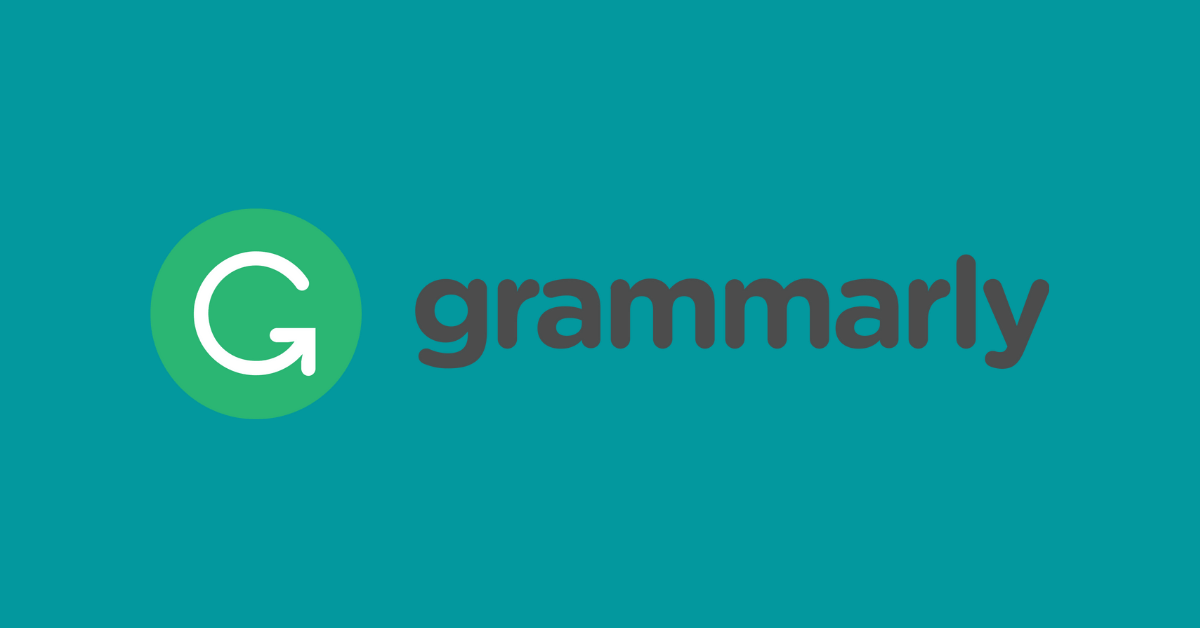 I used Grammarly to find typos and basic grammar errors in my translated articles. However good DeepL is, the input I provided (my Hungarian articles) has also got some shortcomings.
First of all, I had typos in the original content. Also as it turned out I use too many proverbs familiar only to Hungarians. Machine learning could not handle these, so I had to rewrite certain paragraphs.
Publishing with Ghost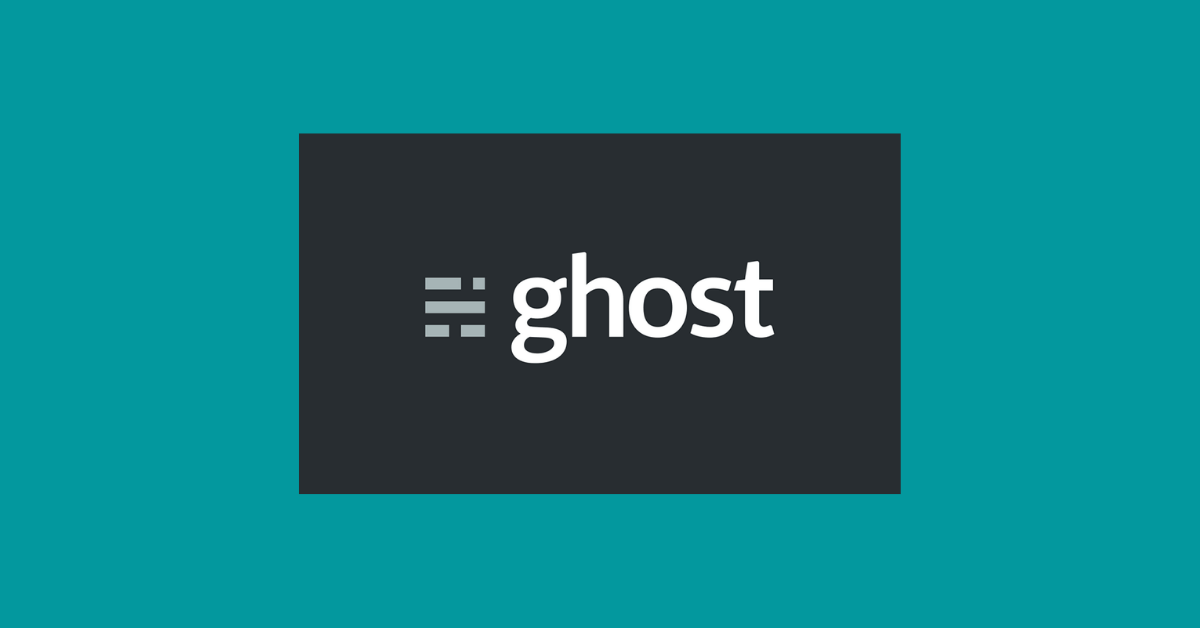 I am driven by curiosity so instead of making my life easier and setting up a subdomain on my WordPress site, I have chosen to experiment with something new.
I have set up a self-hosted Ghost blog on a new domain.
I have wanted to try out the blogging platform, Ghost for a long time and this was the perfect opportunity for me.
Ghost has so many interesting features and capabilities that I was eager to experiment with:
AMP Integration: However it looks like AMP pages are getting out of fashion, I have never used AMP for content projects. Ghost offers a one-click solution for setting up AMP pages. (I tested it and turned it off. It didn't move the needle for a fast-loading small site.)
Built-in Newsletter: In Hungarian, I am running a newsletter that is the second biggest source of traffic for my site. Instead of adding plugins, and slowing down the site with extra Javascript in WordPress, Ghost can handle this without additional effort using Mailgun integration. (It's trickier to set up the integration as I expected.)
Core Web Vitals: Ghost is a lightweight solution and provides relatively good performance without additional plugins like the ones I need to use for WordPress. There is also a big community behind Ghost. The detailed documentation and step-by-step guides make optimizing for performance relatively easy for non-technical folk like me.
I am self-hosting my Ghost blog instead of using their solution. The only downside of this is that I have to set up everything from scratch. Luckily DigitalOcean has a relatively easy process of installing Ghost with a Droplet which I have chosen to go with.
In the meantime I was forced to use CLI, connect my domain name to the newly acquired host, set up SSL certificates, and since then sometimes I have to figure out why a simple command like ghost update breaks my site.
But I learned a lot during this process which is partially the goal of my experiment.
Important to mention: HREFLANG tags
Translating and republishing content on other sites would not be too beneficial to SEO if we wouldn't signal the connection between the two sources for search engines. For this reason, we got HREFLANG tags.
I added hreflang tags to my Hungarian WordPress site with a plugin while Ghost can handle additional tags to the header by its Code Injection feature.
The Initial Results
I bought the domain on the 16th of March in 2021. I set up the Ghost instance immediately and started to translate the top articles. In the first month, I translated around 15 articles.
I naively believed that these best-performing articles would get me thousands of impressions and some hundred clicks within a few weeks.
Of course, that's not what happened.
Why did I believe that I have a chance for that? I assumed Google would pick up the hreflang tag and I would have the rankings for English terms that I had previously with my Hungarian content.
My mind map article turned out to be one of my worst-performing content without any clicks.

I simply do not have enough authority (mean backlinks) to target these kinds of queries. Also, I have optimized these articles to outrank the Hungarian competition. The length, the related keywords, and image alt texts were determined to achieve that result.
Previously I didn't write a 3000-word long article if the competitor ranking number one in Hungary had only 600 words. I outranked him with 1200 words. That was enough back then but not in a much more competitive space.
The experiment failed
My content wasn't good enough to target red-ocean queries like best podcasts, intermittent fasting, emotional intelligence or mind maps. I did not have nor the authority, nor the content to compete with players like Healthline, Verywellmind, or Wired.
I failed and I lost interest in translating these kinds of articles. I know. I know. SEO is a long-time investment but looking at the competitors and some data I had to acknowledge that I have never had the chance to get meaningful traffic to these pages with the strategy I have chosen.
So I get back to reading books and writing summaries about them in Hungarian.
Plan B
Books
The problem with my summary-writing hobby is that I have a too niche interest. Practically no one is searching for the books in Hungary that I am reading.
And there is no problem with that.
Except that it makes little sense to write about something for others if they are not interested. If I want to write only for myself then my zettelkasten system or my journal would be a perfectly fine medium.
But I like blogging and want my pieces to be read.
Since I am mostly reading books in English, and I already have a blog then why shouldn't I simply write my summaries in English and publish them on the new blog.
It looked like a good idea but the motivation didn't last long.
Commitment
I knew that there are higher search volumes in English for "book name + summary" type keywords than in Hungary for the name of the book itself. So I wanted to shoot for the long-tail in this case but to have any meaningful impact I needed quantity.
I decided to translate at least 50 articles. But to do that I knew I would need some extra motivation so I shared my idea on Linkedin to have some skin in the game.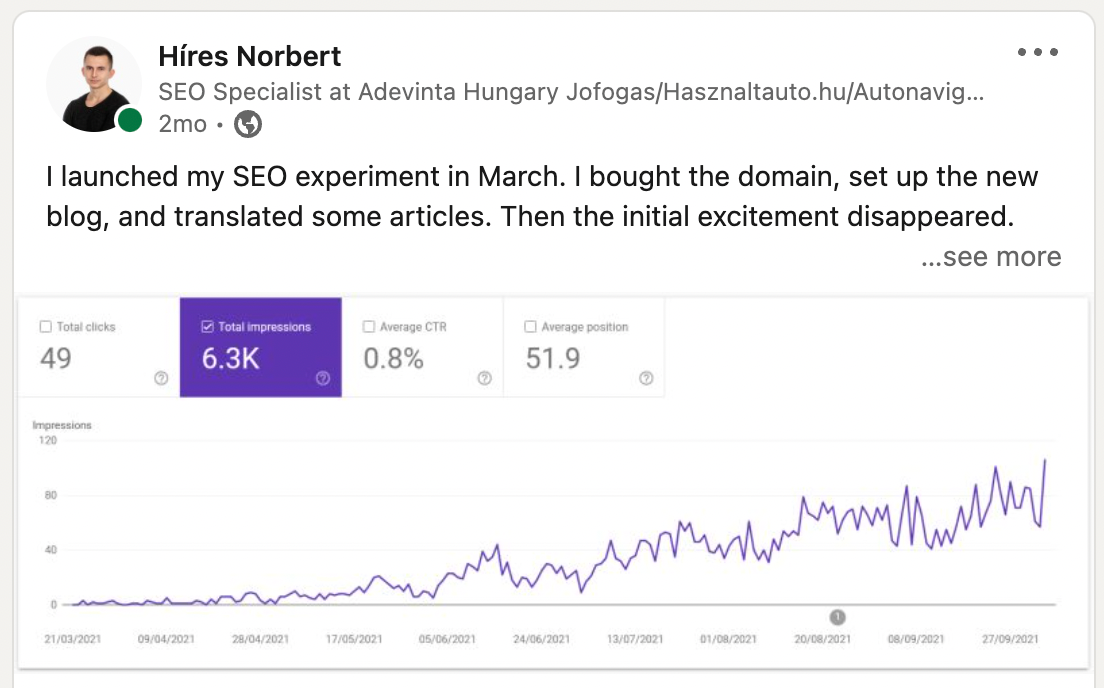 Fast forward I published 50 articles and got some results and learnings to share with you.
The Actual Results
Generally, I don't like increasing charts about impressions or even clicks in search. Both of these (just as keywords in top X positions) can be a vanity metric for businesses.
My experiment has little business relevance. This article is also mainly me geeking about SEO. So read the results with these small precautions in mind.
Few clicks, growing impressions
I did achieve little success with driving meaningful traffic to my blog through Google. 219 clicks (to be precise) is a little bit disappointing.
But I started to appear for relevant keywords and secured rankings in the US for several keywords in the top 10 positions.

The Organic Traffic & Keywords Charts of SEMRush is beautifully aligned with the actual data provided by the Google Search Console.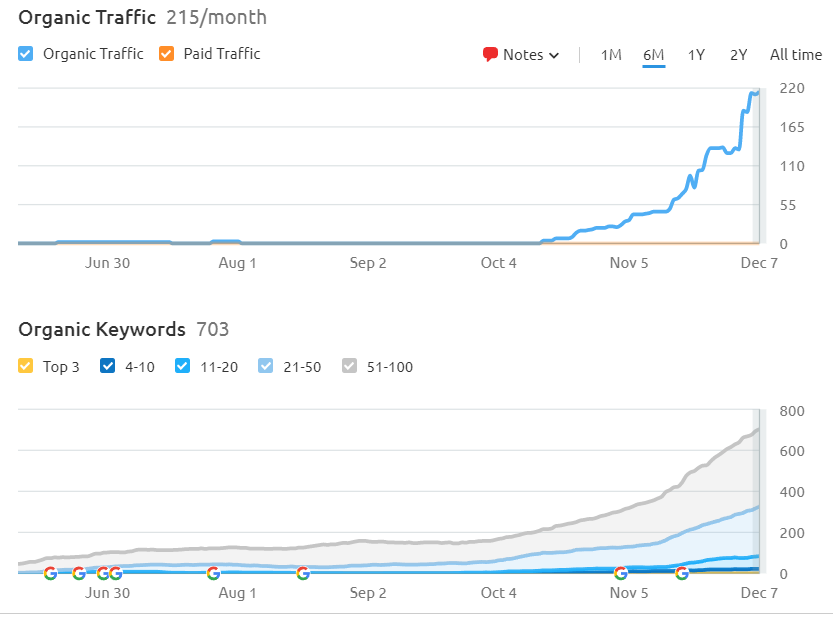 I don't have any keywords in the top 3 positions according to SEMRush, but I have 23 between positions 4-10 and my blog is appearing overall for 725 keywords.
Success in Image Search
I forgot to mention that I recreated all custom visuals to my blog posts. This had a bigger impact than expected. In terms of impressions, my blog appearance in image search is almost 5x more than in web search for Google. I have driven almost the same amount of clicks with images as with web results.
Creating custom visuals and charts is an opportunity I can leverage in the future as it turned out.
Wait! Are there more search engines?
I added Google Analytics to the site relatively late (6 months after the launch). But thanks to this tricky tool I realized that there are much more users arriving on the site than reported by my Search Console.
In Hungary, the two numbers are much closer because Google has a 97% market share. It turned out I can rely only on Search Console if I want to see the site's performance in search.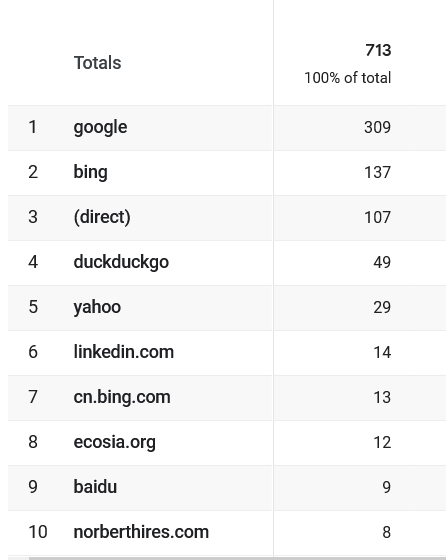 Ghost was a good choice
The integrations provided by Ghost + Zapier made my life much easier and provided opportunities to distribute my content without manual work.
I always wanted to try cross-posting with Medium but wasn't bored enough to do it manually. I found and set up an integration with Ghost which can perfectly do that. When I post an article on my Ghost blog it gets published on my Medium account with a canonical tag pointing at the original version.

I am always contemplating whether my content is good enough to share on my social media accounts. I outsourced this to integrations as well. Currently, Zapier publishes the new post with a short description to my Twitter account. It works like a charm.
To Wrap it Up
I got modest results with publishing 50 articles but it showed me the possibilities. This experiment also got me to question whether it is worth publishing in Hungarian at all.
For sure I am building on the experience which I acquired writing 125 posts in my mother tongue but I achieved a lot more in English publishing 50 posts than when I did the same in Hungarian.
Simply the search volumes are bigger even for niche keywords I would target anyway.
I plan to write on this blog next year.
If you are interested in what I come up with next time follow me on Twitter, Linkedin or subscribe to my newsletter below!
Results after 6 months
I wrote a follow-up 6 months after publishing this article: